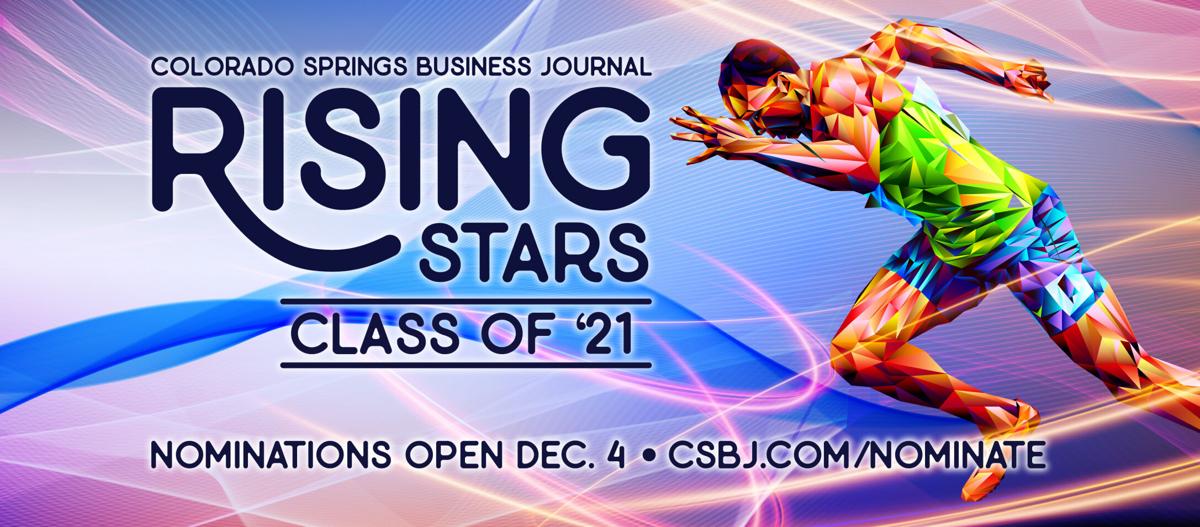 Eight UCCS alumni make up nearly a third of the 2021 Colorado Springs Business Journal's Rising Stars, an annual award that recognizes 25 young, local professionals for their achievements in business and philanthropy and their contributions to the Pikes Peak region.
Read on to learn about the eight alumni – one of them also a UCCS staff member – who have been recognized as movers, shakers and changemakers for Colorado Springs and beyond.
Alex Baker M.A. '18
Alex began working at UCCS in 2015 as a Residence Hall Manager in the Office of Residence Life and Housing. He earned his master's degree in Student Affairs in Higher Education from UCCS in 2018, then transitioned into his current role as case manager for the Office of the Dean of Students. A longtime member of the UCCS Staff Association, Alex currently serves as president of the body, as well as a lecturer for the College of Education, where he teaches courses that focus on the advancement of equity, diversity, and inclusion.
As both a gay man and a first-generation college student, Alex faced obstacles that sometimes seemed insurmountable. But Alex was determined to carve his own path and create the life he dreamed of. He was the third in his entire family to earn a college degree and the first to earn a master's. He has pursued a career in higher education, which allows him to create positive change in the lives of students. He has been able to travel, discover new cultures and build a life of compassion, community and inclusivity. Alex always tries to embody the adage "Be the change you wish to see in the world."
"There are only two people in life that you need to make proud: your eight-year-old self and your 80-year-old self," Alex said. "This award has made my eight-year-old self proud because it shows that no matter your circumstances, you can make your own path, even if you're a kid from a small town in Oklahoma. And this award will make my 80-year-old self proud, because it shows that hard work does pay off, and we can all make a difference in this world we live in."
Anna Cordova B.A. '06, M.A. '16
Anna Cordova, who received both her bachelor's in anthropology and her master's in geography and environment studies from UCCS, is the lead archaeologist for the city of Colorado Springs. She works to ensure the preservation of archaeological resources on city property.
Shortly after starting work with the city in 2016, Cordova helped uncover one of the most historically significant archaeological finds in recent memory – for Colorado Springs, at least: artifacts from General William Jackson Palmer's occupation at Glen Eyrie.
"I am very honored to have been chosen as one of the Colorado Springs Business Journal's Rising Stars class of 2021," Anna said. "I wouldn't be where I am today without the support and guidance of so many people along the way – many mentors and friends at UCCS, my many amazing co-workers at Colorado Springs Parks, Recreation, and Cultural Services, my loving and encouraging parents and my wonderfully supportive husband, Nick. To be able to make a living doing archaeology in my hometown is truly a dream come true, and I am honored to be recognized in this way."
Ashley Cornelius '13
Ashley Cornelius is a nationally recognized spoken word poet in Colorado. She was awarded Gold for the Colorado Springs Independent Best of Artist Category 2019, has won multiple poetry slams, and was named the Women of the World Poetry Slam Colorado Springs representative and competed at the national competition in Dallas in 2018. She has been featured at Tedx Colorado Springs, Pikes Peak Community College, the Colorado Springs Women's March, the Denver Public Library and the Colorado Nonprofit Association. Ashley also serves as the co-director of Poetry 719, a poetry group lifting the voices of marginalized communities and BIPOC folks through poetry.
Ashley holds a master's in international disaster psychology from DU and a bachelor's in communications and psychology from UCCS. She is a licensed professional counselor candidate and is the manager of the RISE program at Denver Health. Her poems reflect her personal struggles and journey as a young black woman. She aims to inspire, empower, evoke change. Ashley is committed to using poetry as a platform to speak up and out for marginalized groups and be a voice for those who have been silenced.
"This award represents the power and significance of using your voice and art to empower others," Ashley said. "This honor creates a legacy for Black women and marginalized communities to be recognized and supported by their community. This award highlights that art, activism, healing, and mental health are integral to community change and strength building. I am humbled and honored by this recognition."
Keeley Griego '18
Keeley was born and raised in Colorado Springs and is passionate about the only city she has ever called home. She graduated magna cum laude from the University of Colorado, Colorado Springs with a B.A. in women's and ethnic studies, a certificate in gender and sexuality studies, a certificate in global studies and a minor in anthropology. She graduated from Leadership Pikes Peak's Leadership Now! program for young professionals in 2018 and is now the program manager for Leadership Now! and LPP's Women's Community Leadership Initiative. Keeley currently serves on the Women and Girls of Color Fund Advisory Council for the Women's Foundation of Colorado.
"I am deeply honored to be recognized amongst such an amazing and inspiring group of people for this award," Keeley said. "My passion for what I do comes from my own experience of being a sexual assault survivor and a proud pansexual Chicana. There have been people who have uplifted me during times when I struggled to love myself. I want to pay that forward and be someone who can make a positive impact for others, no matter how small."
Erick Groskopf '10
Erick was born and raised in Los Angeles, California before moving to Colorado Springs in 1996. He graduated from St. Mary's High School in 2004 and then studied criminal justice at UCCS, graduating with a B.A. in 2010. Erick also minored in theater, something that has become a passion for him in his free time. He has worked with several local theater companies including Theatreworks at UCCS, Theatre'd Art, and Springs Ensemble Theater.
Erick is currently the volunteer and operations director of Colorado Springs Teen Court and is responsible for coordinating all Teen Court volunteers, which include over 100 youth alone in addition to dozens of community members, attorneys, and judges. In addition to people-wrangling and staying in contact with all of the volunteers, he is constantly seeing to the needs of the hundreds of defendants (and their parents) coming through the Teen Court program. Erick is also a proud sci-fi geek, a devout Hufflepuff and has been known to partake in karaoke on certain occasions.
"I am truly honored to now consider myself a winner of the Colorado Springs Business Journal's 2021 Rising Stars Award," Erick said. "I've come to love the wonderful community that we live in and the great people that live here, and I've come to appreciate the little things along the way. From being a student on UCCS's beautiful campus, to working with some of the best people anyone could ever know (both at work now, and on stage), I can't imagine living anywhere else. Remember the past, look forward to the future, but live in the present – it's not the destination that matters…it's the journey."
Harrison Hunter M.B.A '18
Harrison was born and raised in Colorado Springs and pursued his undergrad degree at the University of Colorado Boulder while playing college football. After graduation, Harrison finished his football career at CSU-Pueblo and was a National Champion in 2014. As his football career came to an end, he pursued his MBA at UCCS, and shortly after joined Northwestern Mutual as an intern.
Now, Harrison is the college unit director at the local Northwestern Mutual office, responsible for helping to mentor and develop future interns and advisors. Harrison is also deeply involved in the community, from coaching high school football at Fountain Fort Carson, serving on multiple boards including Fostering Hope, the Black Business Network and Downtown Ventures, as well as serving as a member of the downtown Rotary Club. Harrison has a passion for trying to impact and empower the lives of others.
Harrison shared a favorite quote by Colorado State University Pueblo coach Donnell Leomiti: "The truest measure of one's toughness? Consistency."
"This quote is something that's always stuck with me from my playing days, because Coach Leo has had one of the biggest impacts on my life," Harrison said. "He passed away on July 4th, 2020. This is a lesson I will always remember: that anyone can do something once, but it takes real grit to be able to keep getting up and being consistent every single day, regardless of how you might feel. So, I strive to be consistent in everything I do."
Carlos Jiménez M.A. '08
A graduate of Colorado College from a low-income, first generation background, Carlos has developed a passion for guiding students through the application process, especially those who are first-generation college students. He began his career as an admission counselor and assistant director of admission, in charge of underrepresented recruitment, at Colorado College in 2004. He has also overseen freshmen outreach and recruitment at Colorado State University – Fort Collins and served as director of admission at Colorado College. He currently serves as the CEO of Peak Education in Colorado Springs.
Since graduating from Colorado College with a B.A. in history and political science, Carlos has completed an M.A. in Student Affairs and Higher Education at UCCS and is currently pursuing an education doctorate in organizational leadership and change through the University of Southern California.
"I'm humbled to have won this award – especially after getting to learn about the stories and work of this year's winners and those of the past," Carlos said. "More than a celebration of my accomplishments, I see this as a recognition of the Peak Education team and the great work they have done to expand access and equity in education in our community."
Alicia Klausmeier M.Ed. '10
After graduating with a B.S. from Colorado State University, Alicia returned home to Colorado Springs and attended UCCS to earn her master's in education. After spending 12 years in K-12 education, Alicia left to pursue another love, her family. Her family and the passion she has for helping others led Alicia to open a small bookkeeping and accounting business, where she educates, guides and helps small businesses in the Colorado Springs community.
"I am honored to receive recognition as a Rising Stars Class of 2021 recipient along with all the other amazing individuals nominated and recognized," Ashley said. "This recognition allows me to continue to do the amazing work of supporting small business owners and entrepreneurs, helping our fabulous community, and setting a good example for girls and women everywhere."
You can read about all 25 of the Colorado Springs Business Journal's Rising Stars, Class of 2021, online.