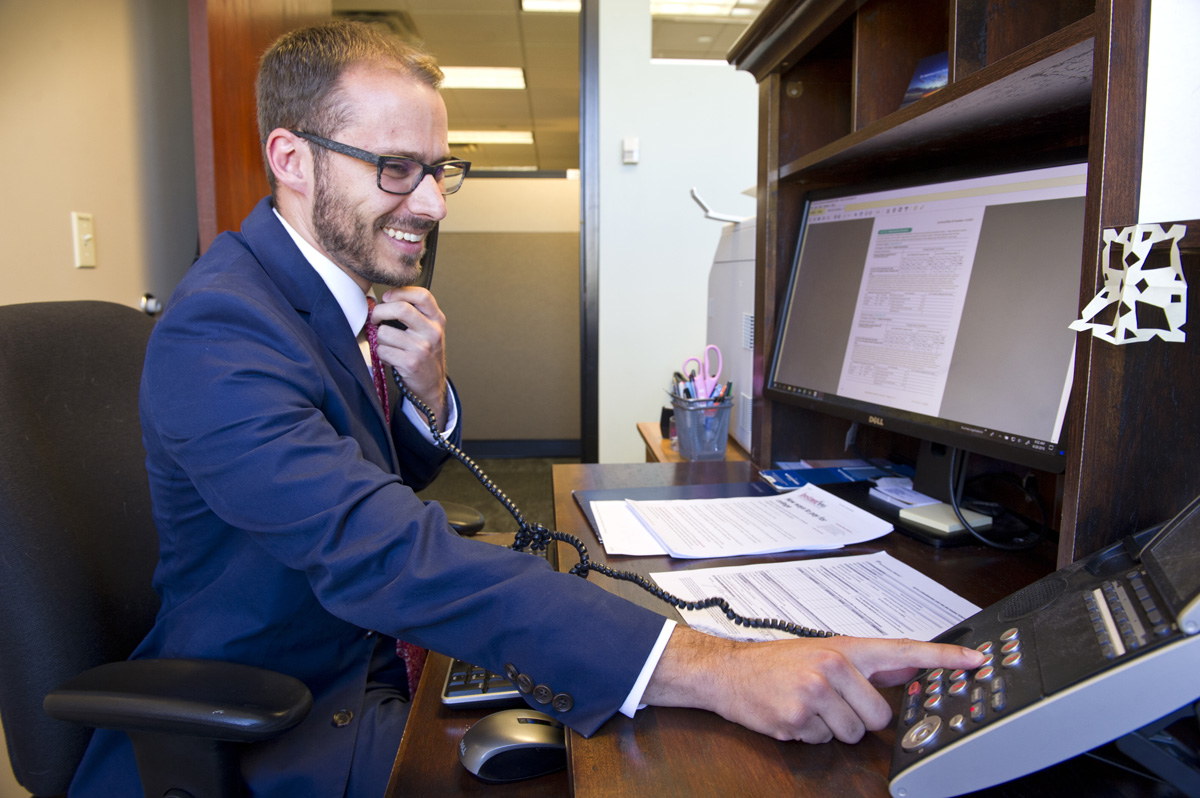 Professionals will now be able to pursue their accounting education anytime, anywhere. The Master of Science in Accounting (MSA) program at UCCS will be moving to a hybrid instruction format in Spring 2022 to accommodate the varying needs of working professionals. The hybrid format will blend the flexibility of remote learning with the benefits of an in-person structure to give remote or time-constrained students an optimal learning environment.
Students will have the opportunity to attend their courses in-person or in a remote synchronous format. Utilizing Dwire Hall's new state-of-the-art HyFlex Classroom technology, virtual students will get the same engaging experience as the students who are physically in the classroom.
"The College of Business strives to deliver flexible degree programs that meet the needs of our professional community," said Karen Markel, dean of the College of Business. "The MSA Hybrid is another example of adapting our course formats and utilizing new technology to support student success. We are very excited to launch the hybrid format in Spring 2022."
"We are excited to offer our MSA program courses in a hybrid format," said Brian McAllister, professor of accounting, College of Business. "Our MSA students are working professionals in our community. The hybrid format offers them flexibility in balancing school with their other responsibilities while also providing personal experiences and interactions with students and faculty."
The UCCS Master of Science in Accounting program, together with a student's undergraduate degree in business or accounting, is designed to fully prepare students for the CPA exam, as well as satisfy the 150-credit hour requirement for licensure in Colorado. The MSA can be completed in as little as one year or up to 18 months, allowing students to customize their course schedule to fit their individual needs. On the 2019 CPA Exam, UCCS students earned the highest pass rate among all candidates from Colorado universities.
MSA alumni are employed by CPA firms with regional offices, including BKD, LLP, Stockman Kast Ryan + Co, BiggsKofford and Erickson, Brown & Kloster, PC. They are also employed by several large CPA firms such as Deloitte, KPMG, BDO USA, CliftonLarsonAllen, Plante Moran, RSM US, LLP, and organizations including Kinder Morgan, Inc., T. Rowe Price and Care and Share Food Bank for Southern Colorado.
Students interested in pursuing the MSA program are encouraged to learn more about the program, hybrid format, admission requirements, tuition and GMAT/GRE waiver eligibility by visiting uccs.edu/msa or by emailing [email protected].
---
About
The UCCS College of Business was established in 1965 and has more than 1,300 undergraduates and 350 MBA students. The College of Business and Administration awards the Bachelor of Science in Business and Bachelor of Innovation degrees. The Graduate School of Business Administration awards the Master of Business Administration, Master of Science in Accounting and Executive Doctor of Business Administration degrees. More than 10,000 alumni of the College of Business live and work around the world. For more information, visit uccs.edu/business.