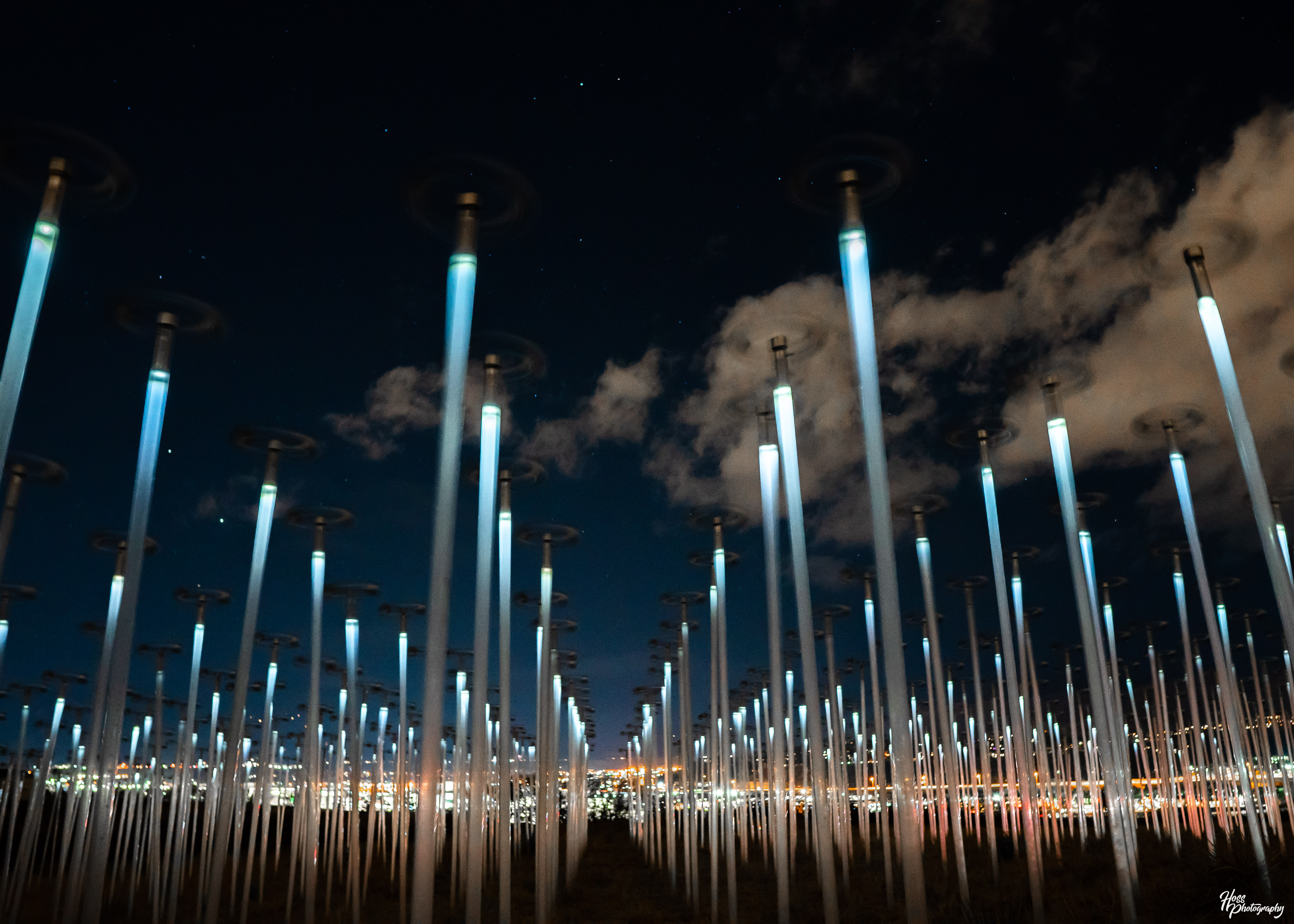 This year, art is breaking new ground at the University of Colorado Colorado Springs, thanks in part to its Gallery of Contemporary Arts "Art WithOut Limits" programming.
Curated by longtime Gallery of Contemporary Arts director, Daisy McGowan, Art WithOut Limits is using UCCS' cutting-edge Ent Center for the Arts as a home for many unique exhibits that allow viewers to interact with art in new spaces.
"We've worked very hard on creative placemaking, with this idea that art doesn't always have to be in the gallery and it can catch people when they're not expecting it," McGowan says.
A prime example is Patrick Marold's "The Windmill Project," which opened last October at the base of Austin Bluffs in the Pulpit Rock open space behind the Ent Center.
Created by renowned Denver artist, Patrick Marold, "The Windmill Project" is made up of more than 2,000 "windmills" constructed out of 8-foot poles staked uniformly into the ground.
The poles are topped by anemometers and 8-watt LED bulbs. When the wind picks up, the makeshift turbines power each light, which glow like stars under the night sky.
When McGowan asked Marold to bring his many windmills to the Ent Center for a display in its sculpture garden, he asked if there was an open space nearby to highlight the environmental message of his piece and picked the Pulpit Rock open space, just a 10-minute walk south of the Ent Center for the Arts' back doors.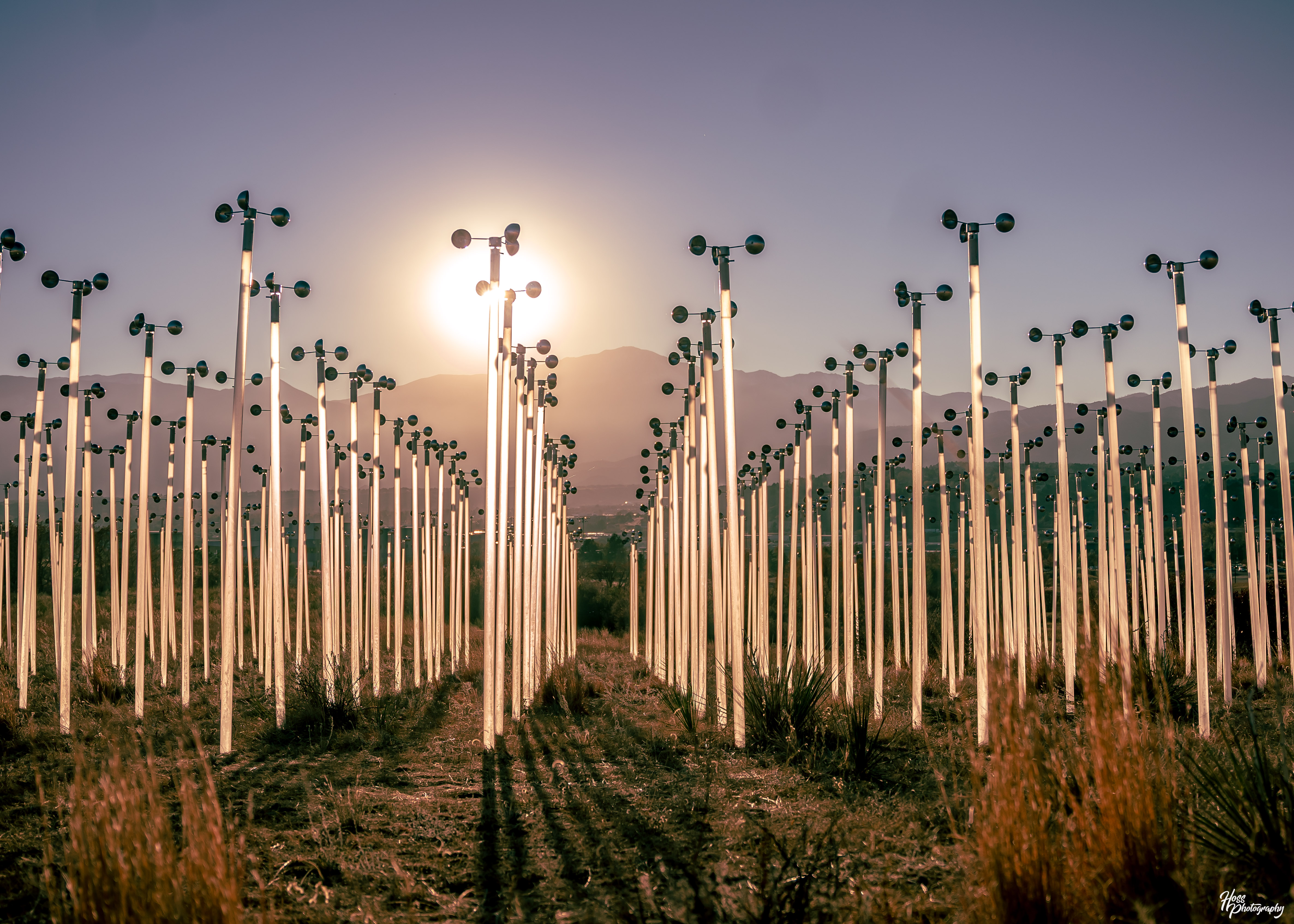 "He explained to me that the work needed a dark sky space where there's no light pollution with a lot of wind," McGowan recalls. "Pulpit Rock was his favorite, partly because of the gorgeous landscape."
Always an out-of-the-box thinker, Marold has taken his "windmills" to various outdoor spaces, including ones in Vail Valley, Vermont, and Iceland, where he was awarded a Fulbright Scholar in 2000 and first convinced of the project.
As Marold explained in an interview with GOCA last year, the windmills are meant to showcase the power of wind within our world and the energy it creates.
"This project translates the behavior of wind into this living body of light," Marold says. "The piece is as much about light as it is the absence of light, because sometimes the wind does not generate light, so there's give and take."
When the Ent Center opened in 2018, McGowan began working with Marold to plan out and install the piece, enlisting UCCS ground crew plus engineering, archaeology, and geology faculty to secure the Pulpit Rock space and ensure it would not be disturbed by the sculpture, but rather, illuminated.
To McGowan, Marold's windmills fit in perfectly with Art WithOut Limits' mission of making art more accessible than before in light of COVID-19, which has effectively shuttered gallery spaces.
"The vision for Art WithOut Limits has aligned with things we are facing," McGowan says. "The act of discovery and exploration, that sense of being able to connect with art during a time when it's not really possible, that is really important."
Art WithOut Limits started in 2008 when former GOCA director Caitlin Greene began facilitating non-traditional exhibits in GOCA's downtown gallery space – the main inspiration for the Ent Center, which has now been turned into an artistic learning lab.
---
When McGowan signed on to helm GOCA in 2010, she expanded Art WithOut Limits by curating many out-of-place projects that push the boundaries of creativity. So far, she has brought sculptures to various parts of the Ent Center with help from local artists.
In the front sculpture garden is a piece by late kinetic sculptor, Starr Kempf. Inside there is a hanging string installation by Denver artist Andrew Huffman. Now, Marold's windmills are a part of the Ent Center's vast backyard until Oct. 2021.
This spring, McGowan is collaborating with the University of Denver's Vicki Myhren gallery to bring new exhibits of interest to other outdoor spaces between Colorado Springs and Denver.
Painter Ian Fisher will use a billboard outside of Larkspur and concept artist Terry Campbell is hosting a scavenger hunt for $1,000 worth of real gold that will take participants to spots across the Southern Front Range.
In April, McGowan and Boulder's M-12 Artist Collective will kick off one of the Ent Center's most intimate exhibits, The Black Forest Dialogue Series. It focuses on hosting outdoor conversations in the Ent Center's sculpture garden around a big fireplace fueled by wood collected from the Black Forest and Waldo Canyon wildfire burn sites.
Throughout six different "Fireside Chats," audience members will get to hear from fire, and wildlife experts about the increasing dangers of wildfires within Colorado.
Similar to Marold's work, and all of the Art WithOut Limits pieces, McGowan is excited to spark a conversation about the outdoors and our environment. By using the outdoors, McGowan hopes to draw in those who might be wary of a gallery visit to get out and enjoy art, if not see things differently.
"We're always trying to find different ways to connect to our community," McGowan says. "To take a chance on something new while considering the environment that we're lucky to have here, and the way artists are engaging with it."
Explore The Windmill Project at the Ent Center for the Arts and the Gallery of Contemporary Arts' digital programming online.