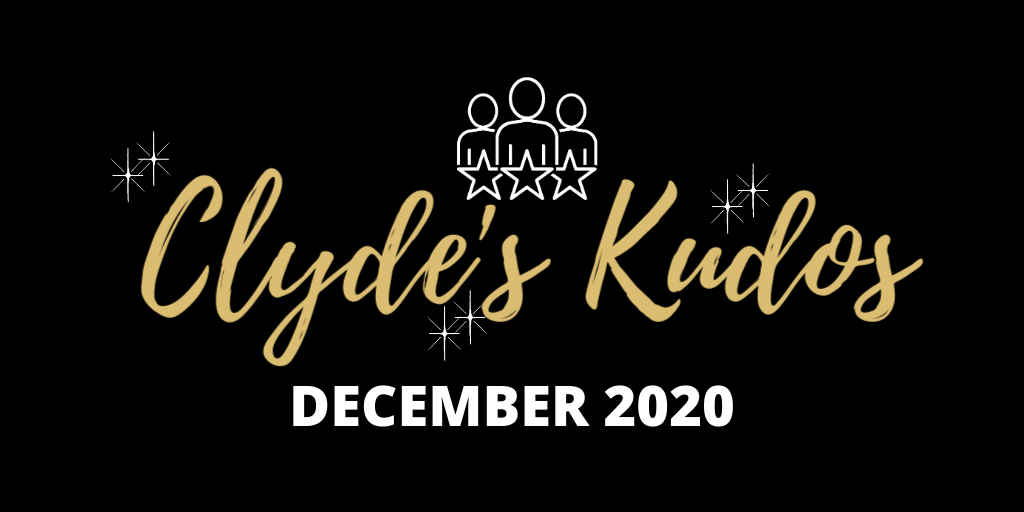 Clyde's Kudos are celebrated each month on Communique. Nominations are also recognized through a variety of forums including the Staff Association website, the Staff Association newsletter, event shout-outs, handwritten cards and other methods of distribution.
Clyde's Kudos: December 2020
Featured this month:
Teams:
Chrissie Bailey & the Winter Giving Project Committee | Everyone Involved in Commencement | Commencement 2020 Team | Vanessa Ea & the Admissions Team
Individuals:
Alex Baker | Angie Kinnett | Anna Squires, Gabby Hensley, Kayla Gronseth-Boyer & Liz Bunkers | Anna Squires, Liz Bunkers & Kayla Gronseth Boyer | Chris Beiswanger | Craig Decker | Crayton Daniel | Ernie Alphonso | Gabby Hensley | Jared Verner | Katherine Placzek | Liz Bunkers & Kayla Gronseth Boyer | Robyn Marschke | Shelly Raney
Teams
To: Chrissie Bailey & the Winter Giving Project Committee
From: Sarah Elsey
The Winter Giving Project is a campus wide activity designed to provide gifts and food to UCCS students, staff and faculty who may be struggling to make ends meet during the holiday season. Chrissie and her team had to make modifications this year due to COVID-19 and did a wonderful job completing the project with new twists thrown their way! Thank you all for your hard work.
To: Everyone Involved in Commencement
From: Andrea Cordova
I could not be more proud! Thank you for your efforts, large and small, to make our Summer/Fall 2020 Commencement a success during these extraordinary times. I feel extremely fortunate to work at a place with such amazing individuals. Thank you for joining me to design another virtual ceremony; thank you for your encouragement; thank you for your strong collaboration; thank you for problem-solving; thank you for going above and beyond; and thank you for entertaining ideas of things we have never done before, some of which we can even continue doing in the future when we return to in-person. I sincerely appreciate you all.
To: Commencement 2020 Team
From: Anon.
Thank you to all those who made the virtual Commencement ceremony possible, including – but not limited to – the Media Services team of Angie Kinnett, Jeff Dempsey and Garrett Kuecker, with tons of social media support from Crayton Daniel, web support from Mark Belcher, communications from Jared Verner and plenty of celebratory swag from the Alumni Office. These are just a few of the individuals involved, and of course, none of it would have been possible without fearless leader Andrea Cordova. Thanks for a beautiful and meaningful ceremony.
To: Vanessa Ea & the Admissions Team
From: ReCentering Public Life Beyond COVID-19 Team
Thank you for your generous technical support in making the ReCentering Public Life Beyond COVID-19 series possible. We deeply appreciate the time and energy you contributed to help us connect with each other and the broader UCCS community.
Individuals
To: Alex Baker
From: Chancellor's Office Staff
Staff Association President Alex Baker took the simple game of Bingo and masterly created a lively, uplifting virtual activity for many staff members on December 15. It had an excellent showing and although the atmosphere was competitive it was all in the spirit of fun! Thank you for being an amazing host, Alex! You left everyone with a smile on their faces.
To: Angie Kinnett
From: Liz Bunkers
HUGE shout out to Angie! She and the media services team were wonderful to work with as we complied alumni videos to use in our virtual commencement ceremony. I appreciate her help and creativity, it tuned out great, thanks Angie!
To: Anna Squires, Gabby Hensley, Kayla Gronseth-Boyer & Liz Bunkers
From: Crayton Daniel
AKA The Party Planning Committee/Committee to Plan Parties:

Kudos on the amazing Team Holiday Celebration y'all put together. So much thought and creativity went into the whole thing. But more importantly, you brought together our entire team, which has nearly doubled since going remote, and our extended team/office mates. 👏
To: Anna Squires, Liz Bunkers & Kayla Gronseth Boyer
From: Gabby Hensley
Thank you so much for being a part of The Party Planning Committee/Committee to Plan Parties! The party turned out fantastic! I had so much fun working with you guys and coming up with so many fun things! I appreciate your creativity and willingness to help! You are truly AMAZING!!!
To: Chris Beiswanger
From: Jenifer B Furda
The week before Christmas I was asked to give a family friend/NEW UCCS student (Fall 2021) a tour of UCCS which of course I agreed to do. AND just for giggles I called Chris with less than a 24 hour notice to see if he could get a student to help with the tour…AND BAM he went above and beyond. NOT ONLY did we get a student lead tour, he also set up a goodie bag including a T-shirt for the new student…which they LOVED!!! THANK YOU CHRIS and team!
To: Craig Decker
From: Liz Bunkers
I wanted to give Craig a shout out for his help supporting the website we are building for the alumni volunteer program. Craig worked directly with our vendor to get us set up for success and worked his technology magic to make everything seamless and easy for us, thanks so much Craig!
To: Crayton Daniel
From: Gabby Hensley
Congrats Crayton on you first year! It's crazy we only started a week from each other. You are such a hard worker and your passion really shows in what you do! I am excited to work with you more in the future and see what fun projects you come up with! You are AWESOME!
To: Ernie Alphonso
From: Sherry McDonnell
Ernie is the best at customer service! Always available to help, to offer suggestions, to explain and always responds quickly. Thank you, Ernie, for all that you do.
To: Gabby Hensley
From: Anna Squires
Gabby spearheaded the most joyous and seamless virtual holiday party ever! She put so much love and work into the preparations – from a cookie decorating contest to a Secret Santa to a beautiful pile of goodies for everyone. Thanks for putting your heart and soul into everything you do!
To: Jared Verner
From: Crayton Daniel & Anna Squires
Kudos to Jared for creating the COVID-19 flowchart that explains quarantine/isolation dates. It went out on the December 4 COVID-19 update email. It's super clean and easy to follow.

Jared sifted through a huge amount of complex information to give us this tool – a job that clearly no one else wanted to do (since this is the first flowchart we've seen explaining the new CDC recommendations). This is a true public service! Kudos, Jared!
To: Katherine Placzek
From: Gabby Hensley
Katherine is AMAZING!! She has always been positive and super helpful even before I started my position here at UCCS. She was persistent at getting an email issue resolved and helped navigate a tricky project that we were working on! I appreciate all that you do! THANK YOU!!
To: Liz Bunkers & Kayla Gronseth Boyer
From: Anna Squires
Liz and Kayla helped the Mar/Comm and Alumni offices to put on an absolutely joyous virtual holiday party that was so much fun for all. Thankful for their creativity, enthusiasm and willingness to put in extra work during an extra-busy time of the year!
To: Robyn Marschke
From: Monica Sedillo
Thank you, Robyn, for working with us to migrate faculty reviews to Digital Measures! Your patience with us as we decide what we do and don't want to add is greatly appreciated and your can-do attitude gives us confidence that anything is possible! We feel super lucky to work with you!
To: Shelly Raney
From: Monica Sedillo
I can't count how many times I've called Shelly at 4:00 on a Friday afternoon (never intentionally, I promise!) with a complex pay issue. Shelly is so patient with me as I try to explain the situation and she strategically walks through the step-by-step process that we need to take. Often times these situations rack my brain, but Shelly makes it seem super easy. I don't know what I would do without Shelly and I truly appreciate her!
Want to celebrate your colleagues? Submit kudos anytime through the Staff Association website. Communique publishes Clyde's Kudos on the first business day of each month.