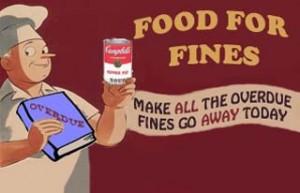 UCCS faculty, staff and students can reduce late fees and help feed the needy through the Kraemer Family Library's annual Food for Fines program.
From Nov. 1 through Dec. 10, the Kraemer Family Library will collect non-perishable food items to benefit the UCCS Holiday Service Project. For each item donated, participants will receive $1  credit toward library fines.
Please note that:
Every donated item counts as a $1 credit towards fines, regardless of the cost of the item. (A $2.50 jar of peanut butter only counts for $1.)
Items packaged together count as one; e.g. an 8 pack of microwave popcorn is worth $1 credit, not $8.
There is no limit on the number of items.  However this offer cannot be used to pay for replacement fees for lost items.
In an effort to provide nutritionally balanced items for the Holiday Service Project, Ramen noodles can be used to pay off only 20 percent of a fine total.
Expired items or cans/boxes with severe damage or missing labels will not be accepted.
Donations should be dropped off at the main Circulation Desk in order to receive a fine credit.
For more information, please contact the Circulation Department, 255-3296.