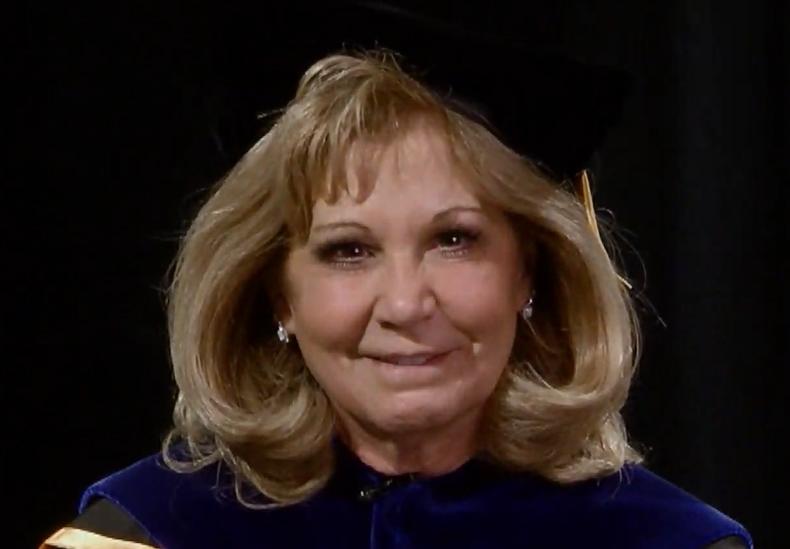 In her keynote address at UCCS' fall 2020 Commencement, Patty Erjavec '15 encouraged graduates to move forward not in spite of – but by using – their disappointment in a virtual ceremony.
Erjavec, a graduate of UCCS' Ph.D. program in education leadership, research and policy and president of Pueblo Community College, addressed 1,100 graduates and their families during the virtual Dec. 18 commencement ceremony. She congratulated graduates on their tenacity and persistence in graduating despite "a world turned upside down."
Erjavec also acknowledged that graduates nationwide feel disappointed by not being able to walk across the Commencement stage in-person this year.
"Your disappointment is real," Erjavec said. "Let's take the opportunity to use these feelings of disappointment to gain some clarity. I would suggest that with clarity come conviction, true originality and a path forward as you begin to make many new decisions."
Erjavec gave three pieces of advice to graduates: First, to think about the future and focus on their end goal; second, to make friends – not enemies; and finally, to use their disappointment to paint a clearer picture of their path to success.
"Acknowledge your pain," Erjavec advised. "You can use disappointment to evaluate your experiences and paint a clearer picture of your path to success. It is a catalyst for identifying how to get unstuck and move forward.
Erjavec quoted entrepreneur Robert Kiyosaki, saying, "The size of your success is measured by the strength of your desire; the size of your dream; and how you handle disappointment along the way."
"Your opportunity lies in how you handle the setback. Do not let your disappointment of missing out on a typical graduation keep you from moving forward and doing the great things, the ambitious things," Erjavec said. "Travel, get rich, get famous, innovate, lead, fall in love, make and lose fortunes, but as you do, do so with kindness as doers, as accomplishers, as dreamers – as your best self."
Erjavec spoke to the graduates as the 12th Distinguished Alumni Award recipient. UCCS conferred degrees on a record-setting 1,100+ students who completed their academic programs in the summer and fall semesters. Congratulations to the Class of 2020!