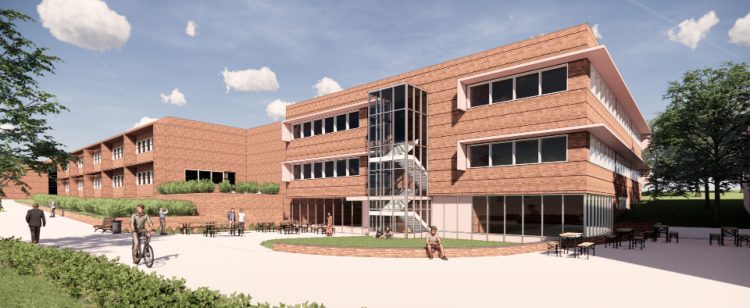 A transformational $3.5 million gift from the Anschutz Foundation will provide resources for the expansion of the UCCS Engineering Building and new academic potential in astronautical engineering. 
"UCCS was founded in 1965 on an early need to educate the engineers of the future, at that time to meet the expanding workforce needs of Hewlett-Packard," said UCCS Chancellor Venkat Reddy. "Thanks to the phenomenal support of the Anschutz Foundation, we can redouble our efforts to develop the bright minds of future engineering students, who will bring their skills and abilities to benefit the nation and make a difference on the ground and in space." 
The three story, 24,000-square-foot annex to the UCCS Engineering Building will carry the Anschutz name and house laboratory instructional spaces, classrooms, faculty offices, faculty research space, and student common areas. It will allow the College of Engineering and Applied Science to continue its enrollment growth to 2,500 students by 2026, more than tripling enrollment in the college since 2008.
The expansion will allow the college to increase academic programs in astronautical engineering, a subfield of aerospace engineering that is unique to Colorado Springs as the provisional home of United States Space Command at Peterson Air Force Base. The Department of Defense is currently evaluating multiple sites as permanent headquarters.
"The College of Engineering and Applied Science is in a unique position to enable a skilled workforce to meet the growing industry needs," said Don Rabern, dean of the college. "Our graduates already make up a substantial portion of the local engineering workforce in computer science, electrical and computer engineering, and mechanical engineering, and this gift will allow us to meet the demand for graduates in astronautical engineering."
The gift, when added to the $8 million already committed by the CU Foundation, will cover nearly 70 percent of the costs for the proposed project. Construction is scheduled to begin in March 2022 and be ready for students and faculty in fall 2023.
"The University of Colorado has a rich and enduring history in space research and exploration, and this gift will help grow our leadership in these areas for the benefit of the state and the nation," said CU President Mark Kennedy. "The Anschutz Foundation has been a longstanding and important partner in many of our endeavors at CU. We are grateful for their continued support of the university and higher education in Colorado." 
"The Anschutz Foundation continues to have an incredible impact on our educational environment. Colorado Springs is already the epicenter of military space operations for our nation and this latest addition to our talent and education pipeline is of direct benefit to U.S. Space Command," said Colorado Springs Mayor John Suthers. "Our ability to continue to produce highly-educated graduates to fill the increasing need in aeronautics and astronautics is yet another indicator that there is no place more prepared to serve as the permanent home of U.S. Space Command."