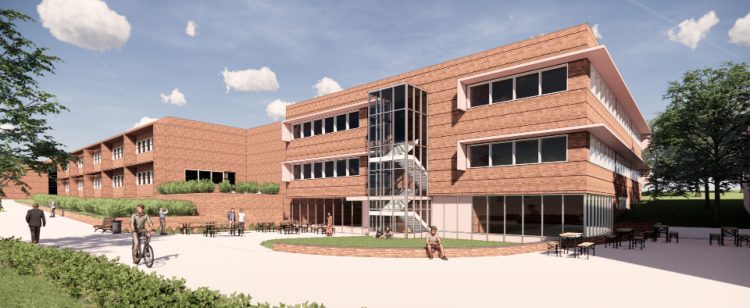 The proposed annex to the Engineering Building received a boost after CU President Mark Kennedy collaborated with the CU Foundation to make $2 million available for the project.
The three story, 24,000-square-foot annex will house laboratory instructional spaces, classrooms, faculty offices, faculty research space and student common areas. It is projected to cost $16.7 million.
"We appreciate the partnership with the CU Foundation board and their understanding of the great need for this project," Kennedy said. "The College of Engineering and Applied Science is experiencing significant growth and seeing great demand for engineering graduates from industry partners in the Pikes Peak region and beyond."
Enrollment in the college has more than doubled since 2008 to some 1,700 students. Growth is projected to continue apace, with enrollment expected to reach 2,500 by 2026.
In addition to the resources from the CU Foundation, the project is expected to be funded by continued philanthropy and potential state funding. The CU Foundation board's finance committee approved the move last week, and final approval is expected from the full CU Foundation board soon. The CU Foundation has previously provided $6 million toward the project.
"We appreciate the support from the CU Foundation and President Kennedy, and their recognition of the importance of this project to our campus and community," said Chancellor Venkat Reddy. "Increasing our capacity to educate students in the critical fields of engineering and applied sciences will serve our city, region, state and world."
Construction on the facility is expected to begin in March 2022, with occupancy slated for August 2023.