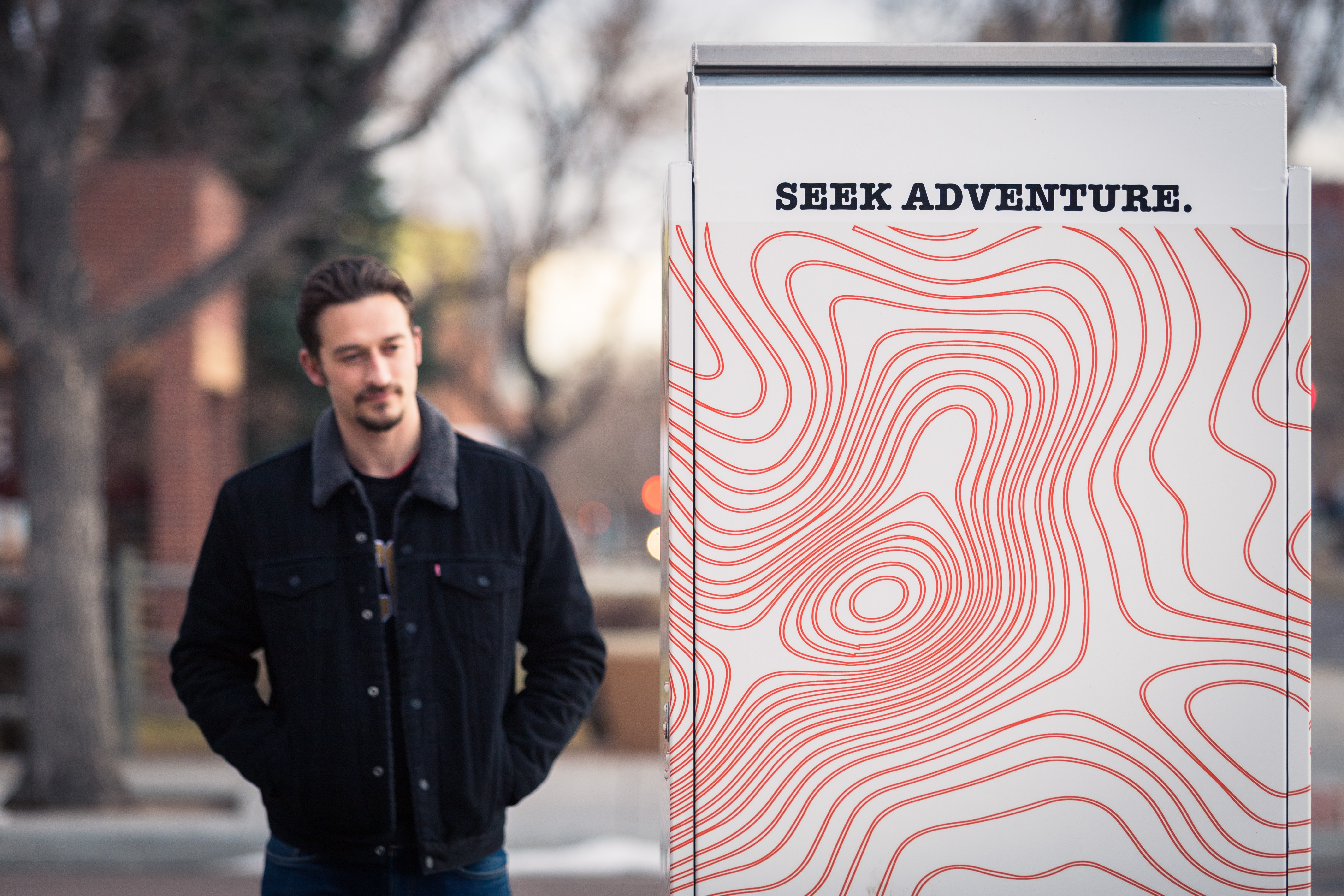 Downtown Colorado Springs has just gotten more colorful, thanks to the artistic touches of five UCCS students and graduates.
Spurred by the question "How can UCCS celebrate its presence in the heart of the city?", students Madalyn Botkin, Tyler Haynie, Andy Kwiatkowski, David Ramires and alumnus Lee Haider '20 were recently given the opportunity to design Colorado-themed coverings for five electrical boxes in the heart of downtown Colorado Springs.
The colorful designs are one swatch on a palette of initiatives bringing vitality to downtown. Made possible through collaboration with the Downtown Partnership of Colorado Springs, the project adds to efforts to incentivize walkability, attract new businesses and tourism and shape downtown neighborhood identities.
"Public art is the perfect way to showcase the positive impact of students' creativity," said Claire Swinford, Director of Urban Engagement for the Downtown Partnership of Colorado Springs. "It enriches the wider community, because in addition to beautifying our streets, public art plays a crucial role in urban placemaking. Making art accessible in public spaces ensures that the city center remains an inspiring and welcoming place for visitors, residents, students and our workforce."
Several of the designs feature motifs pulled from Colorado Springs' unique geography and history. A sleek topographical rendering by Haider and a stylized rendition of the Colorado state flag by Botkin showcase the city's adventurous terrain, while Kwiatkowski's train motif hearkens back to Colorado Springs' history as a railroad town.
Other boxes touch on the culture of Colorado Springs. Haynie's cheerful Pike's Magic Wishing Box design invites viewers to make a wish for the future. And Ramires's tongue-in-cheek design pokes fun at the number of Colorado Springs residents who are self-proclaimed "dog people."
Dozens of UCCS students submitted designs for the electrical boxes. The five winning designs were selected by a panel led by Nikki Pike, senior instructor of art at UCCS. Printing of the weatherproof wraps was made possible thanks to Colorado Springs-based community sponsors Nunn Construction, technology company Bluestaq and realtors Behr & Behr.
Plan a walking art tour of downtown using the interactive map – and see all five designs below.
Plan your art walk
1. Boulder Street & Nevada Avenue
Artist: Lee Haider '20, marketing | Sponsor: Bluestaq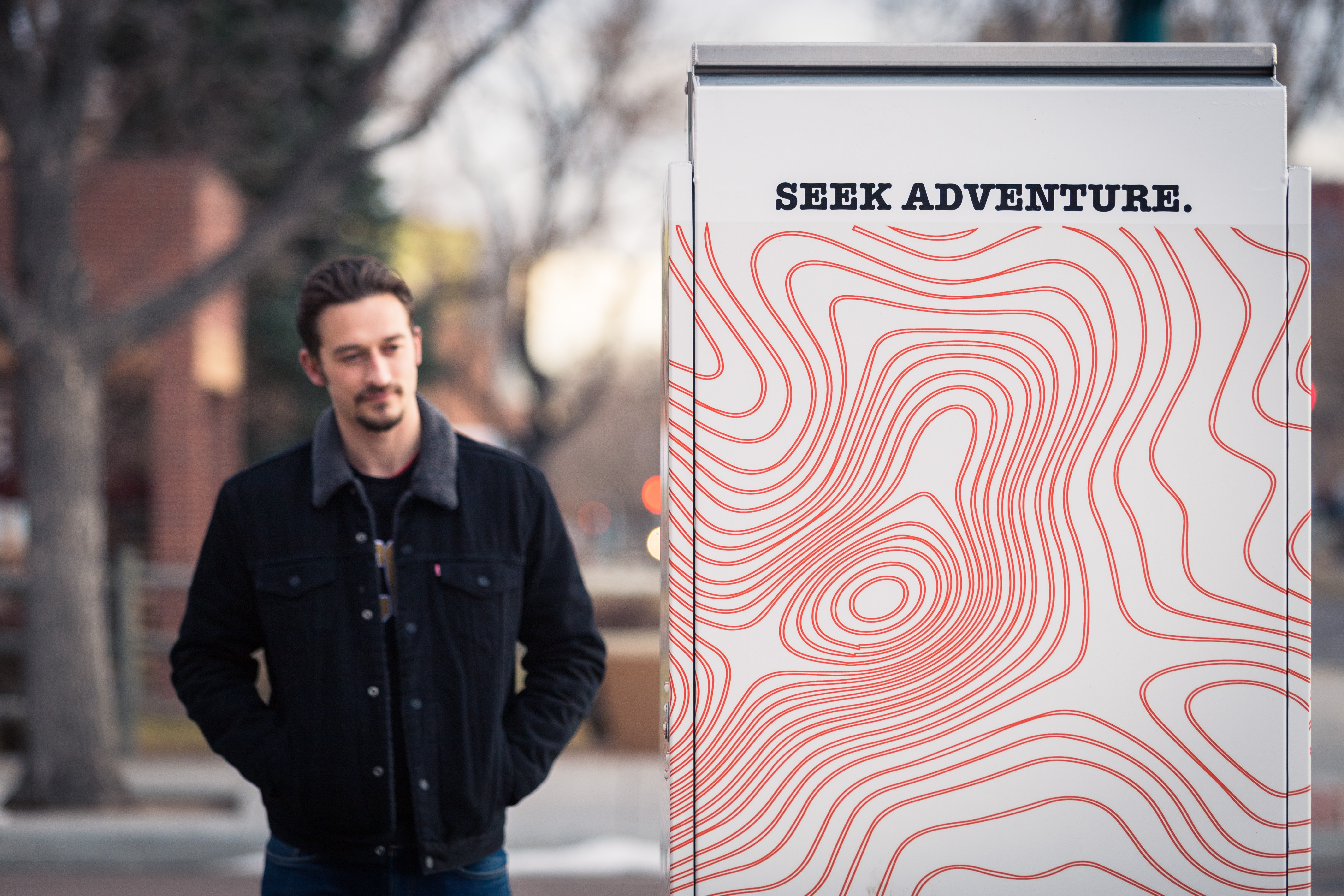 2. Bijou Street & Cascade Avenue
Artist: David Ramires, interdisciplinary studies | Sponsor: Nunn Construction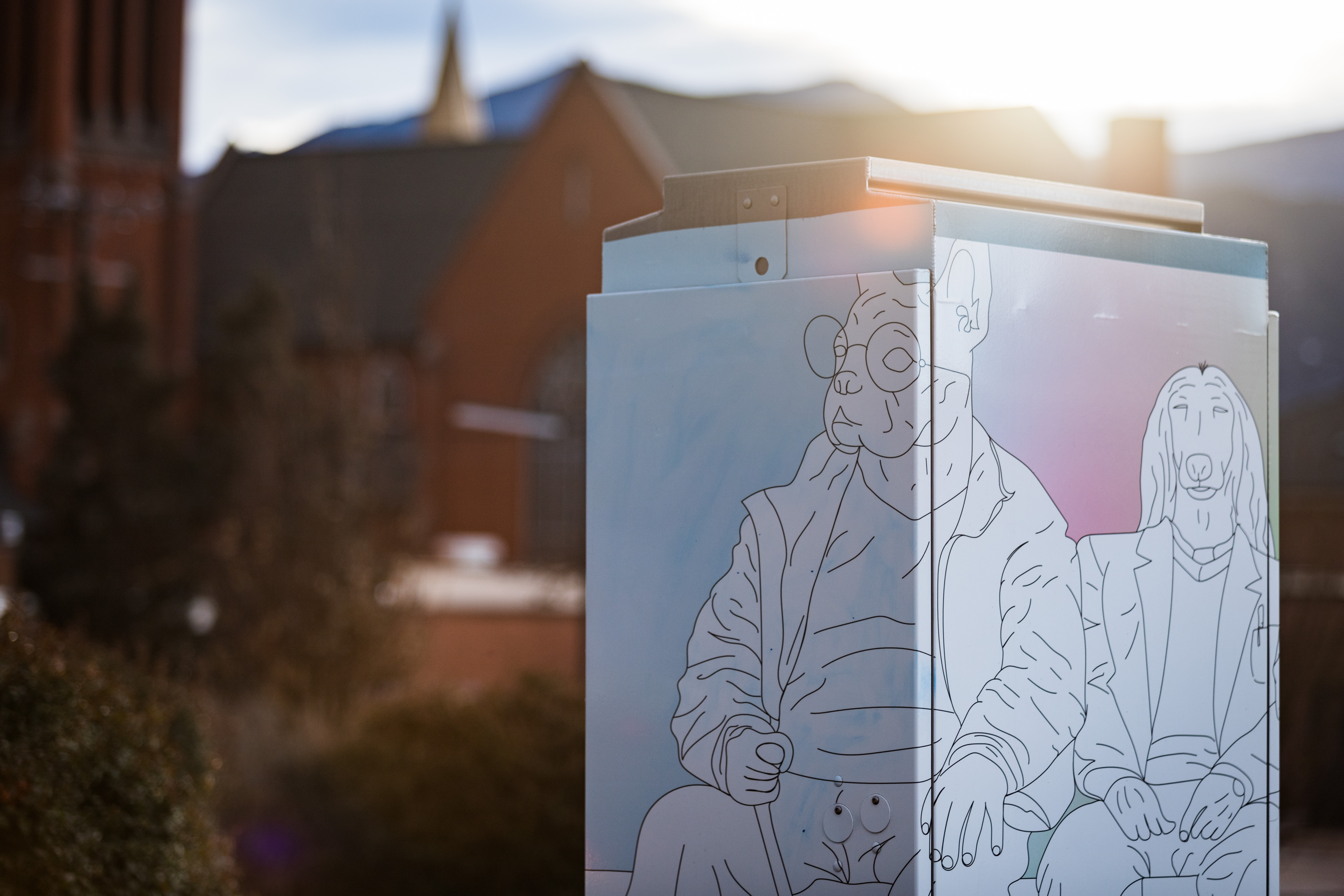 3. Bijou Street & Weber Street
Artist: Andy Kwiatkowski, communication | Sponsor: UCCS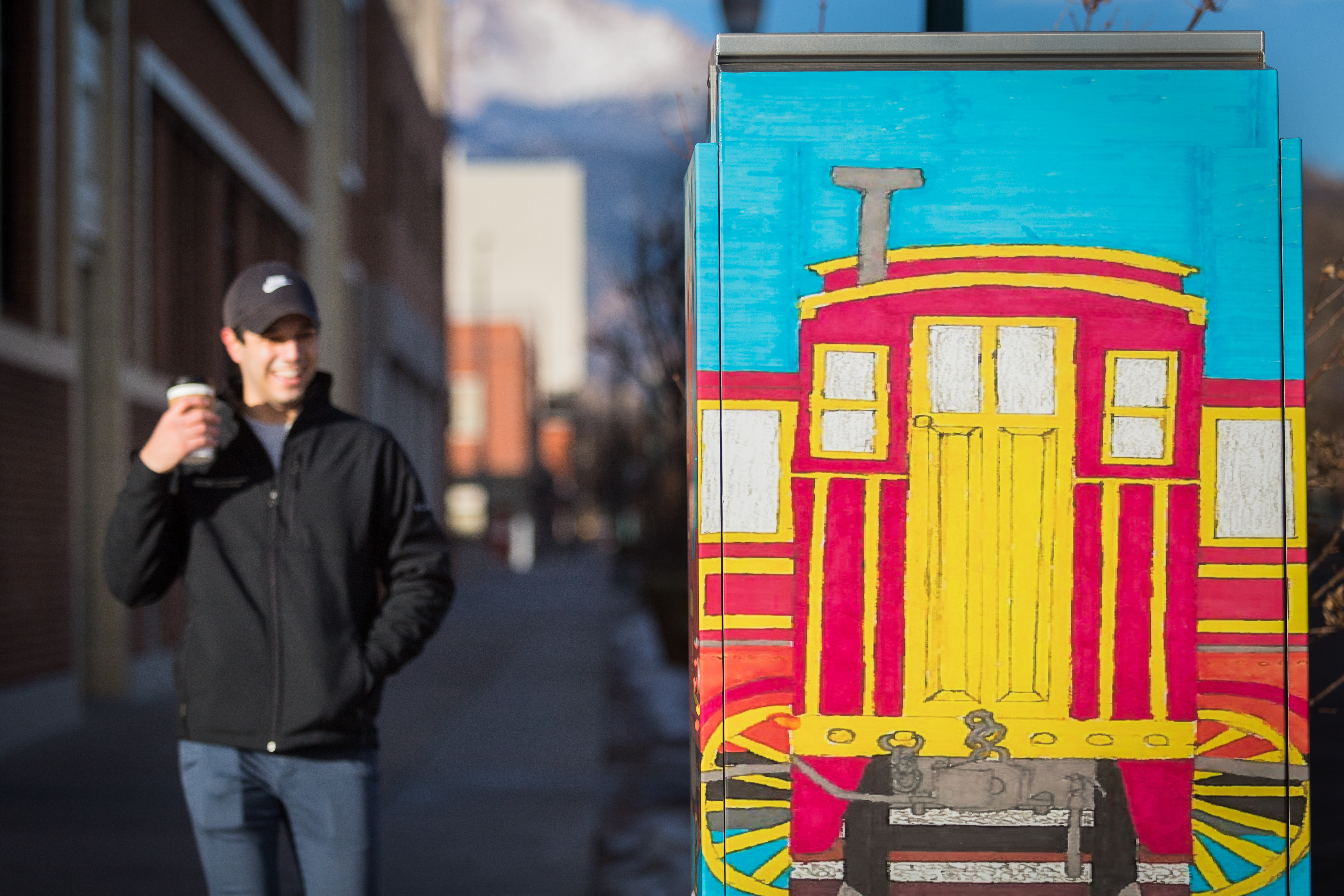 4. Pikes Peak Avenue between Cascade Avenue & Tejon Street
Artist: Tyler Haynie, visual and performing arts | Sponsor: Behr & Behr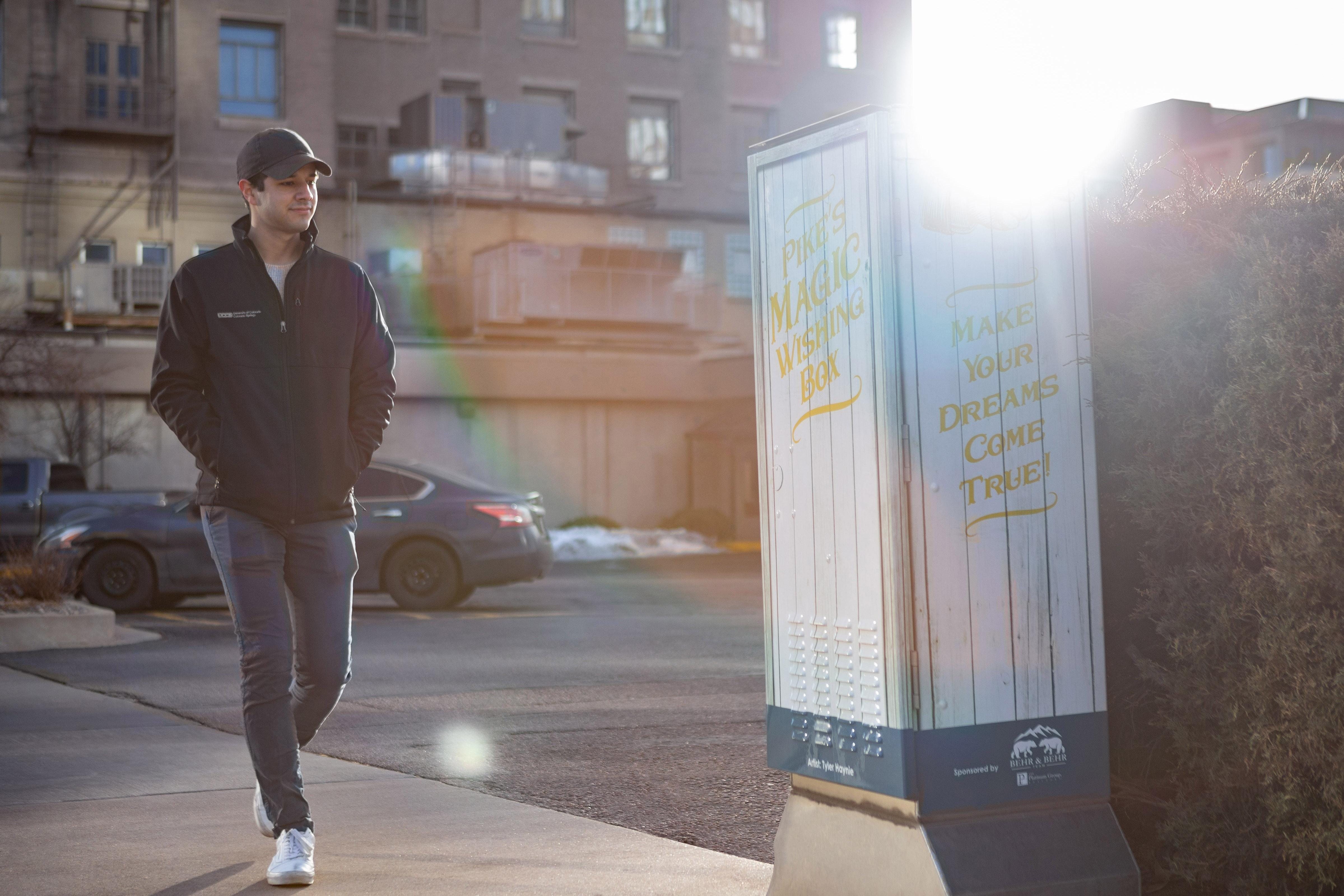 5. Colorado Avenue between Nevada Avenue & Weber Street
Artist: Madalyn Botkin, visual and performing arts | Sponsor: UCCS