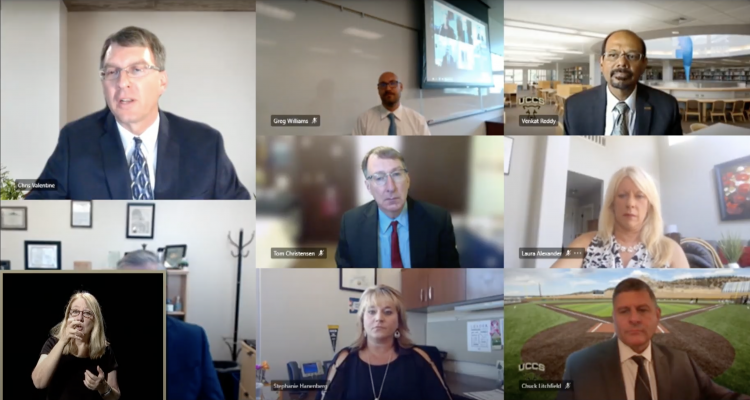 Chancellor Venkat Reddy and campus leaders addressed campus at the fifth virtual Town Hall of the summer on August 13.
Chancellor Reddy and a panel of campus leaders provided updates on the state of enrollments, health and safety measures UCCS has put into place on campus and the criteria that the university would take into account if considering moving to remote operations at any point during the fall semester.
Updates presented by Chancellor Reddy and campus leadership included several key takeaways.
Here's what you need to know:
"Thank you to each and every Mountain Lion who makes up our community, who has been doing their part to keep UCCS moving forward, despite all the challenges we have faced," said Chancellor Reddy in remarks to the audience. "It's our collective effort that makes a return to campus and a fall semester possible. We all have a part to play in keeping our community healthy."
"I am proud of the patience, compassion and courage our faculty, staff and students have shown throughout this planning process. I take a great deal of pride in serving you, and I am a very proud Mountain Lion."
Members of the UCCS community who would like to submit additional questions for response may do so online. They may also fill out a survey response to the event.