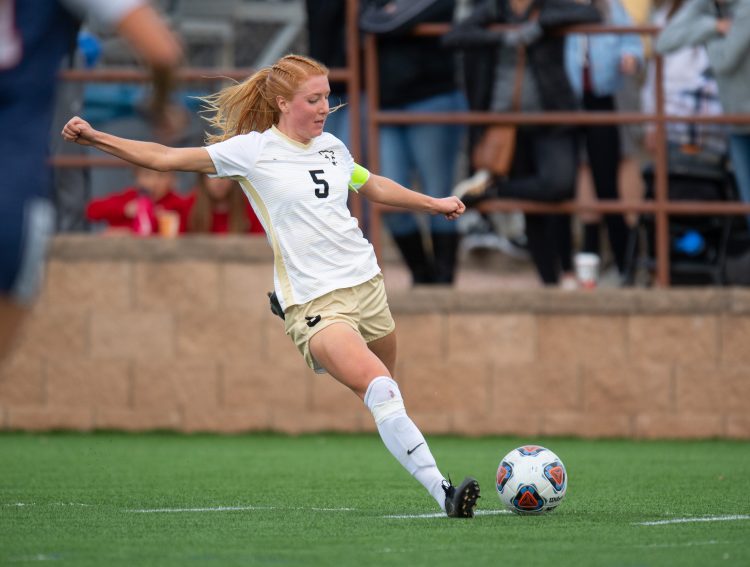 Former captain of the UCCS women's soccer team Aleesa Muir '20 is among six Rocky Mountain Athletic Conference (RMAC) athletes nominated for the NCAA Woman of the Year Award. A total of 605, 126 from DII, NCAA nominees were submitted this year.
Nominees for the award also include Alyssa Kelling (MSUD), Anna Haugen (SDSMT), Tianna Terrell (WCU), Abby Tiesman (CSM) and Summer Vigil (FLC).
Rooted in Title IX, the NCAA Woman of the Year Award was established in 1991 to recognize graduating female student-athletes who have exhausted their eligibility and distinguished themselves in academics, athletics, service and leadership throughout their collegiate careers.
Muir is a lauded graduate of UCCS. Not only an outstanding women's soccer athlete, biology student and research assistant, when Muir graduated with a degree in biology May 2020 she held a near-perfect 3.96 GPA. Her accomplishments earned her the Thomas F. McLaughlin Award, presented to student-athletes who have demonstrated excellent athletic ability and an outstanding commitment to fellow student-athletes and their communities.
Fast, athletic and left-footed, Muir won RMAC Defensive Player of the Week three different times in 2019, started in all 20 of the 2019 season's games and set a career high of four goals and three assists, including one game-winning goal. During her time at UCCS, she was recognized as an Academic All-American by the College Sports Information Directors of America and an All-American by the Division II Conference Commissioners Association and the United Soccer Coaches organization.
Now that she's graduated, Muir plans to take the MCAT and pursue medical school. With one year off to prepare, she will continue to perform immune system research with James Kovacs, assistant professor of biochemistry.
Conference offices will select up to two nominees each from their pool of member school nominees. Then, the Woman of the Year selection committee, made up of representatives from the NCAA membership, will choose the Top 30 honorees – 10 from each division.
From the Top 30, the Woman of the Year selection committee will determine the top three honorees in each division and announce nine finalists. The NCAA Committee on Women's Athletics then will choose the 2020 NCAA Woman of the Year, who will be named this fall.