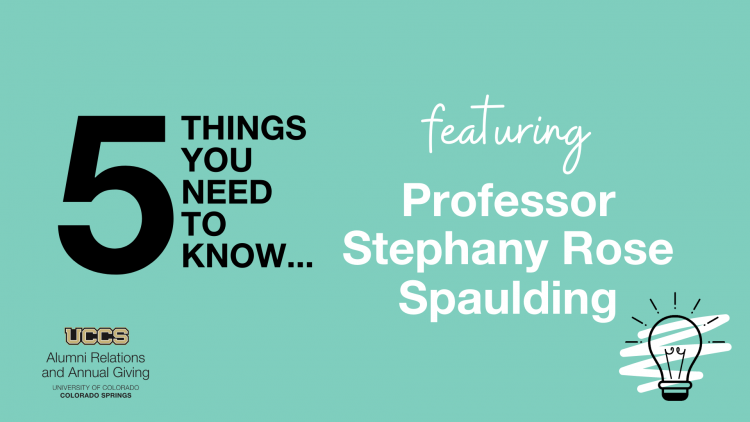 In a recent "5 Things You Need to Know" episode, Joanna Bean, director of the Office of Alumni Relations and the Annual Fund, interviewed Stephany Rose Spaulding, director of women's and ethnic studies (WEST).
Spaulding and Bean spoke about the academic program's role in recent conversations about social justice, how anyone can get involved with social justice issues that matter to them and the importance of learning about ethnicities and genders other than your own.
Spaulding shared that the WEST program – one of the few academic programs in the nation that studies gender and race together – has been deeply involved in recent nationwide conversations about social issues.
"We're really a part of the work that's happening here in our city and in our state," Spaulding said.
In the past few months alone, WEST has organized conversations for students to discuss the COVID pandemic, racialized trauma, police violence and the exacerbation of racism in the U.S.
Abby Ferber, professor of sociology and women's and ethnic studies, is curating a series of panel conversations at Dazzle Presents, a Denver venue, that have featured WEST faculty members and students. And WEST faculty members supported a peaceful gathering hosted by UCCS students and alumni that raised awareness about structural racism. These activities are in addition to the program's work to integrate current events into coursework.
"We are both a theory and a practice program," Spaulding said. "We have always incorporated social justice work into our coursework."
In response to questions from the audience, Spaulding also shared how individuals who have never engaged in social justice engagement can lean in.
"First, build a reading list," Spaulding said. Among her recommendations for books and media are "13th," a documentary by Ava DuVernay that explores the history of racial inequality in the United States, and "Stamped From The Beginning" by Ibram X. Kendi.
Spaulding recommended that individuals then begin to tap into nearby communities and conversations about issues that interest them. She encouraged individuals to search social media for local chapters engaging in social justice and sign up for newsletters from the WEST program and the Matrix Center at UCCS.
"The work of gender and race studies is for everyone," Spaulding said. "There is a way, if you desire, for you to tap in. Do not feel alienated. Please join us."
"5 Things You Need to Know" is a virtual series to keep alumni and friends connected with UCCS. In this series, experts on campus are highlighted through their research and through conversations with community experts. The series is a part of the Alumni Relations Office's commitment to lifelong learning and connectivity. Watch Spaulding's episode online.