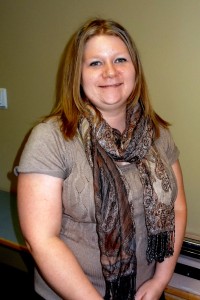 Ida Dilwood should wear the title Mrs. UCCS.
Dilwood earned two degrees from UCCS, began her career at the university, met her husband at UCCS and had her wedding reception in the Lodge. All of that, and she still gets chills at every commencement.
"Commencement is the reason I stay," Dilwood, the fourth quarter 2013 UCCS Employee of the Quarter, said recently. "When I see the students in their caps and gowns, I always think 'wow, I may have made a small difference in someone's life.' That keeps me going."
Dilwood began working for the Student Disability Services offices as a student worker. She held that position for five years and was an interim director before her 2007 selection as one of the youngest office directors in UCCS history.
Her office served more than 400 students with disabilities and proctored more than 4,500 exams last year. But Dilwood is quick to point out that the term disability means much more than someone who might use a wheelchair or have trouble seeing or hearing.
"You don't see a traumatic brain injury," Dilwood said recently. "I think that's why commencement excites me so much. Sometimes, I see people and know how hard this journey was for them. I know the story that no one else sees."
Hidden disability or obvious, Dilwood wants to help. A machine in the lobby of her office converts basic graphs into a tactile image with raised lines and she is well versed in tools such as Dragon Speak, a program that converts text to audio. She takes a similar approach to testing services, another function of the office. Students can be proctored for a missed exam through the department or take a battery of standardized tests ranging from the ACT to the GRE.
That same helping attitude led to her service on various committees at UCCS including serving as past president of the Professional Exempt Staff Association and as a member of the parking committee, the food service committee and the University of Colorado Staff Council.
"Ida is a prime example of someone who is willing to dedicate herself 100 percent to her role as the director of disability services and testing yet still finds time to be involved in a plethora of other committees on campus," Stephanie Hanenberg, director, Student Health Center, said in her nomination letter.
As Employee of the Quarter, Dilwood is happy to park in a reserved space for the next three months. She also received a day of administrative leave, a gift card to Hacienda Colorado and a plaque of recognition.
For more information about the program or to nominate a staff member for the award, contact Deanna Ely, Facilities Services, committee co-chair, [email protected] or 255-3313.