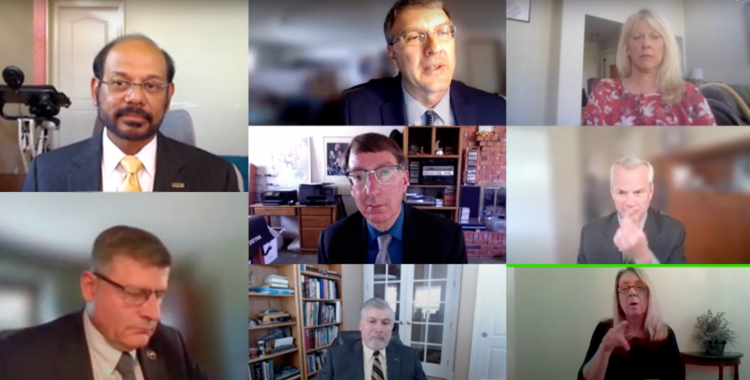 Chancellor Venkat Reddy and campus leadership addressed faculty and staff at UCCS' second virtual Town Hall on May 21.
In the hour-long session, Reddy spoke about the economic impact of COVID-19 on the university's financial standing, plans to open campus for in-person classes in the fall semester and preparations for the future being made at the University of Colorado system level.
Reddy opened with a statement on UCCS' mission and values.
"I want to assure you that every decision we make is grounded in our mission and in our core values," Reddy said. "We chose these values for our university because they embodied the best of what we thought we could be. And we will continue to look to them as we make decisions in these challenging times."
He continued, "That means we will act with trust and transparency through this entire process. We will work hard to listen to every voice on this campus. And we will work together to make the best decisions possible for our campus. That is the promise I make to you."
Reddy overviewed the May 19 Board of Regents decisions to keep tuition rates flat across all four CU institutions for the 2020-2021 academic year and to forego compensation increases for employees.
He then outlined the impact the COVID-19 pandemic has had on UCCS' budget, including the Colorado Joint Budget Committee's May 19 decision to cut funding for public colleges and universities by 58 percent. UCCS receives roughly 12 percent of its funding from the state of Colorado, which will translate to a funding decrease of approximately 19 million dollars for the next fiscal year.
Reddy also outlined cost-saving measures that the university will employ to prepare for a 15 to 20 percent budget reduction. The university has focused efforts on instituting a hiring chill, cutting back on operating and travel costs, delaying controlled maintenance, saving on utility costs and using campus reserves, among other methods, to cover the largest expense areas. The university also anticipates making up some of the deficit through additional funding for higher education authorized by Governor Jared Polis on Monday.
With salaries and benefits constituting 68 percent of the university's budget, UCCS will institute tiered, temporary furloughs. All officers of the university will take a 10 percent reduction in salary through furlough beginning July 1. General fund employees, or those funded through state appropriations and tuition, earning $60,000 or more per year will take a 4.6 percent reduction in salary, equivalent to one furloughed day per month, beginning July 1. Faculty earning $60,000 or more per year will take the same reduction in salary beginning August 17, the first day of the academic year.
In the present model, classified staff members are not subject to furloughs. These employees may be subject to furlough plans or other reductions implemented by the state or by the CU system. More information can be found on the Human Resources website.
In addition to temporary furloughs, the university will give notification of layoffs to impacted employees supporting auxiliary operations on May 22. Auxiliary operations include departments such as residence life, dining, transportation and event services, which are dependent on the revenues they generate and not on state appropriation or tuition. Additional auxiliary employees may be impacted by partial furloughs beginning July 1.
Reddy continued with updates on the recovery teams across the university who are working to prepare for on-campus classes to be offered in the fall. The recovery teams, comprised of over 50 individuals, are developing policies for safe in-person learning, including guidelines for wearing personal protective equipment, temperature checks and the capacity of UCCS' classrooms to adhere to social distancing guidelines.
The session then opened to both pre-submitted and live questions from the campus, answered by a panel of campus leadership. Listen to the responses to each question below.
Reddy concluded the Town Hall with thanks for the extraordinary efforts of the UCCS campus over the past few months.
"I know these are difficult times for all of us," he said. "It's hard to hear that the future is so uncertain. It's hard to make plans and decisions when we don't know what the next few months will bring us."
"What we can do is prepare for every eventuality, lean on each other, support each other and understand that this experience will reshape our campus forever – but whether it shapes us in good ways or bad ways is up to us. I have faith that our phenomenal community, our work ethic and our commitment to student success, scholarship and research will help us to transform for the better."
Members of the UCCS community who would like to submit additional questions for response may do so online. They may also fill out a survey response to the event.
Below, listen to the response to each question answered in the virtual Town Hall session. You can jump to an individual topic using the list below.
Q: What is a furlough, and how does it impact benefits?
Additional details about furloughs:
Q: What will the return to work on campus look like this summer?
Q: What does enrollment look like for this fall?
Q: Will students be living on campus this fall?
Q: Will students be charged fees for services in the fall?
Q: What will classes look like this fall?
Q: What public health restrictions will be in place for in-person classes?
Q: What technologies are available for new and remote students?
Q: Can you give more details on the new vacation leave flexibility policy?
Q: Will any changes be made to the fall calendar?
Q: What non-personnel cost-saving measures are being implemented by the university?
Q: When can faculty return to on-campus laboratory research work?
Q: How can faculty and staff encourage students to come to campus in the fall?
Q: How will public health guidelines be enforced on campus?
Q: Who will be impacted by the layoffs beginning on May 22?