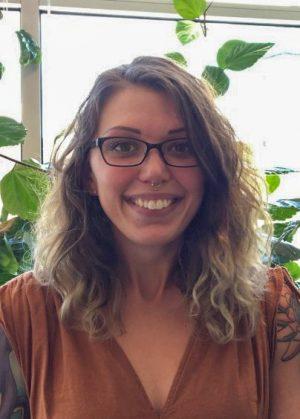 For Jade Gallagher, being a great UCCS student employee simply comes down to doing more. That's why she is the 2020 Student Employee of the Year Award.
This merit is given out annually to one student employee of any grade level who has gone above and beyond in their role. Gallagher has surpassed expectations as a student program assistant within UCCS' Mechanical and Aerospace Engineering Department, adeptly handling any task that comes her way.
"I do a lot of work getting data for our senior students," Gallagher explains. "And I always work with faculty, doing any projects they need help with."
Gallagher came to UCCS from Grand Forks, North Dakota, to major in geography and environmental studies, but added minors in sustainability and computer science to her degree for more job opportunities. So far, an understanding of computer science has made her a valuable asset in her job.
"I've been able to learn how to do data analysis and conduct surveys," Gallagher says. "Some of it sounds like basic stuff, but it's helped me become more organized as a worker."
Organization is important when it comes to aiding countless students. While Gallagher was initially hired to do administrative work, she quickly began taking on new responsibilities, which impressed her boss and MAE Senior Instructor, Julie Albertson.
"She takes everything and never complains," Albertson says. "No matter the job, she just happily does it, so fast."
Gallagher's steadfast diligence and dedication to students inspired Albertson and other MAE administrators to nominate her for the award. It's also why Albertson would like to see Gallagher have a more developed role in the department next year.
"The fact that students know who she is and have her there as a resource, it really puts them at ease," Albertson says. "To get their questions and problems addressed as quickly as possible is helpful."
And while students have come to value Gallagher's assistance, she herself appreciates what student employment has done for her.
"Before I started working on campus, I was doing multiple retail jobs," Gallager recalls. "It was time-consuming trying to work around class schedules. Finding an on-campus job makes the whole work-life balance easier."
While Gallagher is ready to take on a bigger role and wouldn't deny a full-time position within MAE, she is also considering working with nonprofits to further sustainability efforts and might even take on advanced geographic information system work using her computer science minor. Either way, she's happy to be recognized for all her efforts.
"I was really surprised to hear that I got accepted for the award," Gallagher concludes. "But it's rewarding to have proof that my work has contributed to the people I work with."