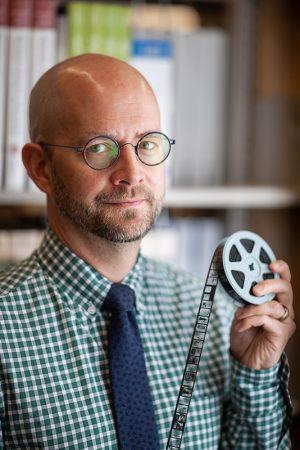 Martin Garnar, dean and professor of the Kraemer Family Library, will be the next director of the Amherst College Library.
"While I'm excited for this next chapter at Amherst and to be closer to my family in New York, I will miss working with the excellent staff and faculty of the Kraemer Family Library, and I am grateful to UCCS for giving me the opportunity to be part of such a vibrant and committed campus community," Garnar said.
In the last five years at UCCS, Garnar and his team of 29 librarians and staff have positioned the library as a central part of the campus culture and life. The creation of the "Just Talk" series, an opportunity to promote open and honest dialogue on equity, diversity, and inclusion topics with multiple campus and community partners, earned Garnar the CU President's Diversity Award. The library's diversity and inclusion plan has been adapted throughout other campus units.
Garnar guided the library's strategic planning efforts to focus on continuous assessment and adjustment as opposed to a time-bound plan. As part of his inclusive approach to leadership, Garnar often served as a member on various library teams, as opposed to leading them. He maintained an understanding of day-to-day operations and needs by working shifts on the research assistance desk.
Garnar has collaborated with campus areas, donors, and other university libraries to expand library programming and services. A close relationship with the Office of Information Technology has allowed the library to be an early testing environment for new technologies that can be implemented across the campus.
"Martin's leadership will be deeply missed as he takes on this new role at Amherst," said Provost Tom Christensen. "A university library is the natural place to be the center for scholarship activity. Martin and his team embraced that to the benefit of our faculty and students."
Christensen is working with the library leadership to determine interim leadership for next year.