As soon as he was named Chef of the Year by the American Culinary Federation's Pikes Peak chapter, Corey King was already gearing up for the next challenge.
King, who is UCCS' executive chef and associate director of culinary, won this year's Chef of the Year trophy and will keep a medal naming him as the ACF's Chapter Top Chef. But he isn't about to rest on his laurels anytime soon.
"This is definitely going to be a fun-filled year," he said.
As the new vice president of the ACF Pikes Peak chapter, King will also represent southern Colorado at the ACF's national convention, where he hopes to bring home the bacon – a collection of regional and national awards.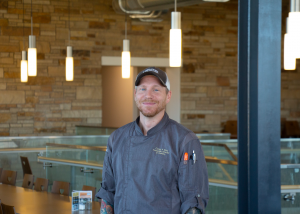 Just weeks later, he is scheduled to cook at the ACF Pikes Peak chapter's Culinary Passport event, an annual fundraiser that will raise money for the Springs Rescue Mission. The funds raised through ticket sales and a silent auction will go directly to the nonprofit, which provides food and shelter to the homeless of Colorado Springs.
In addition to raising funds for local nonprofits, King is also adding global initiatives to his plate. He recently worked with Del Monte Foods, where he helped brainstorm how global food corporations can contribute to sustainability efforts on an international scale.
Next, he'll work with another symposium to represent "chefs who are trying to change the world."
"Sustainability is a big movement on this campus, but it's still localized," King said. "We need to work with global companies to fight the global fight. If we're having food strife throughout the world – and we are – then we need to take that globally."
The drive to do good through food is a deeply personal one for King.
"Last year I battled severe depression," he said. "Once I dug myself out of that, helping others became my focus, both professionally and personally."
And for King, mixing food and philanthropy at the events he hosts is a recipe for success.
"Everybody has to eat," he said, "so everybody comes out to support them. And the better the event, the more people feel like they can support your cause."
One thing is for sure: this chef on a mission isn't stopping his work – in the kitchen or for good causes – anytime soon.
"It's been a whirlwind of a year," he said, "and that's only going to continue."