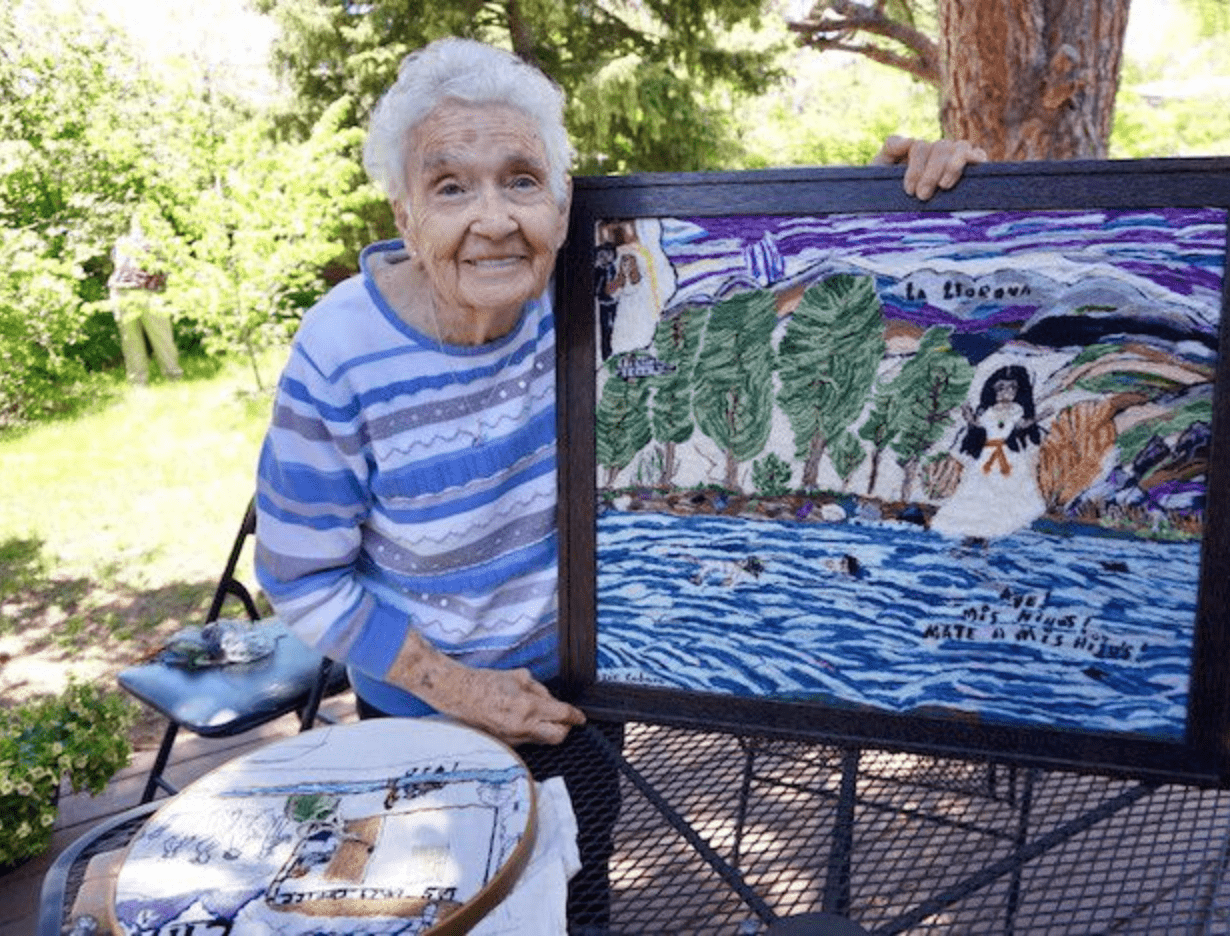 As professor and chair of the Visual and Performing Arts Department at UCCS, Suzanne MacAulay knows that amazing artistry must be rewarded. That's why she helped Josephine Lobato win a National Heritage Fellowship from the National Endowment for the Arts last September.
For more than 30 years, Lobato, age 83, has been practicing an art form called Colcha embroidery, a Spanish Colonial style that dates back to the early 19th century.
Compared to other embroidery styles, the point of Colcha (Spanish for "quilt" or "cover") is to tell a story by sewing detailed images into textiles, blankets or tapestries. Lobato's works are so intricate, they almost look like a painting.
Lobato's love for Colcha came from her time working at the Fort Garland Museum and Cultural Center in Fort Garland, Colorado.
"She once told me 'I have so much experience working with history, I always thought someday I'll sit down and write, so my embroidery is sort of a story and sort of a legacy,'" MacAulay says. "She found a style she was good for and she's still stitching away."
In 1990, MacAulay, who has a Ph.D. in folklore and ethnography from the University of Pennsylvania, traveled to Lobato's home in the San Luis Valley to complete her dissertation on Colcha embroidery.
Situated in Southern Colorado, near the border of New Mexico, the San Luis Valley is home to a long lineage of Spanish and Mexican settlers. At the time of MacAulay's dissertation, the valley was undergoing an economic revitalization effort fueled by folk art. Many women in the area took to Colcha embroidery, including Lobato. This work was so important to the revitalization, MacAulay decided to write a book about it called "Stitching Rites" using Lobato as one of her main subjects.
In 2015, MacAulay decided to honor Lobato by submitting her for consideration to the National Endowment for the Arts. According to MacAulay, the NEA's National Heritage Award is one of the highest honors a folk artist can get, akin to the Nobel Prize. The award also boasts $25,000 of funding.
"When one is a folklorist or ethnographer, they don't get a chance to pay back those who have shared their lives with them," MacAulay explains.
For four years, MacAulay went to work gathering evidence to prove that Lobato was worthy of such a prestigious award. To MacAulay, what helped seal the deal were letters she gathered from community members in the San Luis Valley describing the effect Lobato's work has had on the area.
Last September, MacAulay flew to Washington, D.C., to see Lobato receive the award. Afterward, Lobato told her that the entire trip "felt like a dream."
For MacAulay and the UCCS Visual and Performing Arts Department, Lobato's award is a dream come true. Since MacAulay took over as chair in 2004, the department has been integrating different disciplines to revolutionize arts education at UCCS. From these interdisciplinary concepts comes a deeper understanding of how folk traditions can influence art as a whole.
"We're revisioning the way our history should be taught," MacAulay says. "There are so many elements of social practice in the arts these days, so storytelling and ethnography — they all come together."
Soon NBC's "Today" show will be interviewing Lobato about her body of work and National Heritage Award. Of course, MacAulay couldn't be happier to see her friend, and favorite folk art style, get more recognition.