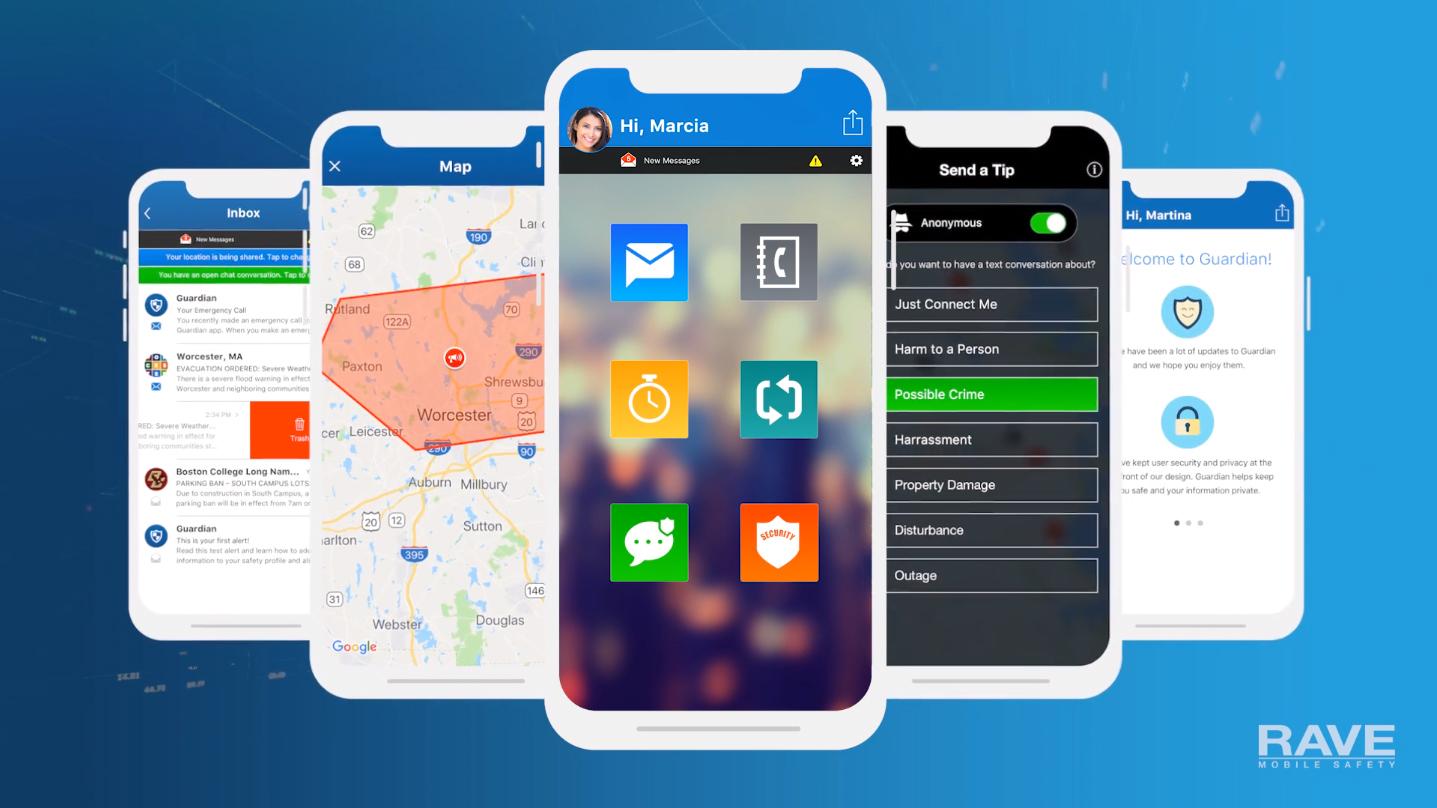 A new mobile app available for students, faculty and staff will allow additional options for campus community members to contact UCCS Police and receive emergency notifications.
The optional Rave Guardian app, available for free on Android and iPhone, will replace the 54 blue-light emergency phones on campus. The phones have not received a call for service from faculty, staff or student in the last three years, with most people opting to use their cell phones to call UCCS dispatch at (719) 255-3111 or El Paso County dispatch at 911. People will still be able to make those calls even if they don't have the app.
"We looked at how our emergency phones have been used in the last three years, and found that the one call for service was by an off-campus user who drove onto campus from Austin Bluffs Parkway," said Marc Pino, UCCS Police Chief. "CU Boulder and several campuses across the country have removed their call boxes in favor of an app to provide better service."
The UCCS Faculty Assembly, Staff Association and Student Government Association were consulted for input on the move to a new platform.
The Rave Guardian app will offer other features that will enhance safety on campus:
Virtual escort: Rave Guardian offers users additional security with a safety timer. Users choose to have their peers or UCCS Police monitor walks, ensuring they get to their destinations safely. If a problem arises, UCCS Police is immediately notified and can view users' locations and key profile information. If a situation escalates at anytime, an emergency call is just one click away for users.
Confidential text messaging: Two-way confidential texting with UCCS Police to report any suspicious activity, text and images, discreetly though your smartphones. Text conversations can also be listed as anonymous if you are worried about retaliation or injuring a relationship.
Targeted Notifications: Send geo-targeted push notifications to the community based on their real-time locations, even if they don't have a cell signal. "This was identified as a need in our recent lockdown drills where community members did not receive the text message," Pino said. "As long as you are connected to the UCCS WiFi you will receive the emergency notification."
Help with a push of a button: The app connects you directly with 911 or UCCS Police through one click of a button.
The app is optional and does not replace the ability for users to call UCCS Dispatch at (719) 255-3111 or El Paso County Dispatch at 911. To download, visit the Google Play or Apple App Store.