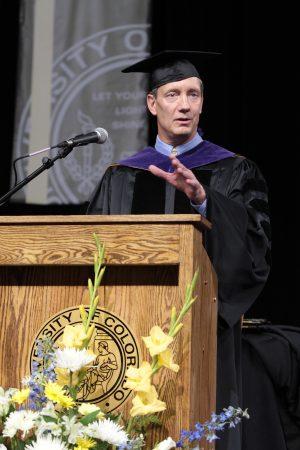 Giving back for UCCS alumnus Mike Fryt means helping students discover the potential within themselves, which is just what UCCS did for him.
"Of all the places I went to school, from grade school through law school, I think UCCS had the biggest impact on me, particularly in terms of self-confidence and overall development," Fryt said.
As a boy growing up in Manitou Springs, Colorado, Fryt dreamed about attending college away from his home town. Little did he know the local university would develop him into a leader.
He went on to become corporate vice president of tax at FedEx, a senior tax counsel at TRW Inc. and held various positions with Exxon Corp. Fryt strongly believes in the concept, "lift as you climb," and supports student success in various ways, including as a guest lecturer in the UCCS College of Business.
"It doesn't take a rocket scientist to know that our society needs strong future leaders to meet or exceed the potential we see in them," he said. "I don't have another 50 years to personally contribute, but I can invest in these students so they can."
Today, Fryt's passion for UCCS is apparent in his involvement. His commitment toward student success helped bring a new scholarship to campus — the Bridge Forward Scholarship.
"If we want to survive and thrive as a society, we must not only continue to provide higher education, we must expand it so that more and more people can take advantage of it. The more we can do it, the more possibilities we provide to people and the more we all benefit."
Bridge Forward Scholarship: Inspiring the Possible
Scholarships help pave the way for student success. Financial burden is reduced, and ambitions are within reach. That is just what the Bridge Forward scholarship aims to provide — access, affordability and success for UCCS families. Through the Bridge Forward Scholarship, driven middle-income UCCS undergraduates can apply for additional aid toward college. To learn more about the Bridge Forward Scholarship, visit uccs.edu/give/bridge-forward.