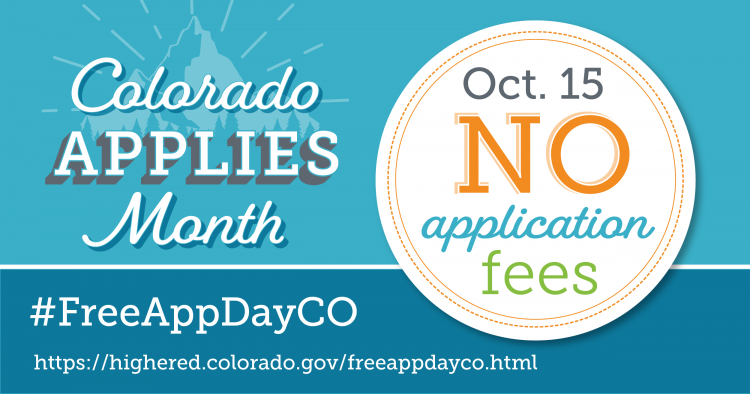 Since its founding in 1965, UCCS has been committed to access and affordability for all students. Its participation in the Oct. 15 Colorado Free Application Day marked further steps towards making a college education accessible for all prospective students and their families.
For the second year running, UCCS participated in the Colorado Free Application Day statewide tradition, instituted by Gov. Jared Polis in 2018.
With over 2,700 applications submitted on Oct. 15, UCCS was among the top five receiving institutions in the state. It joined all 32 public colleges and universities in Colorado, along with several private institutions, in waiving the application fee for all prospective students.
According to Mathew Cox, UCCS' senior executive director of enrollment management, "In addition to creating an incentive for students to apply to multiple colleges when they may not have otherwise – or even to apply earlier than they otherwise would have – Colorado Free Application Day has also played a role in putting the importance of post-secondary education in the forefront of high school students' and parents' minds during an otherwise very hectic time in their lives."
Cox also remarked that the free application day is not the only initiative the UCCS Admissions Office has offered to support affordability throughout the application process.
"First, UCCS's undergraduate application fee is $50, a fee that has not increased in well over a decade," Cox said.
He continued, "Additionally, even before the state-wide free application day was instituted, our admissions counselors were frequently involved in supporting economically challenged school districts as well as individual families." Those measures included application fee waiver programs for entire school districts and for guidance counselors submitting documentation demonstrating students' financial need.
The total number of applications submitted to institutions across the state during the 2019 Colorado Free Application Day increased by approximately 4,000 from 2018. Just under 44,500 applications were submitted to institutions statewide. It is estimated that the fee waiver saved prospective college students almost $2 million.
Two-thirds of the applications submitted to UCCS were from outside of the Colorado Springs metro area, and a little over 50 percent self-identified as students of color. Additionally, while UCCS compiles its first generation data after the start of the new academic year, Cox estimates that first-generation application submissions to UCCS will be similar to initial state-wide data at about one-third of the applications submitted that day.