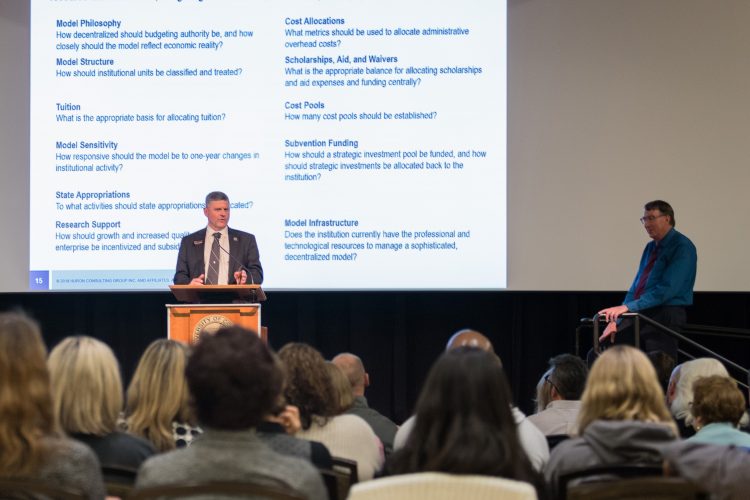 The first steps for a new budget model that will allow for more control and flexibility at the unit level were outlined to the campus during a Nov. 13 Town Hall event in Berger Hall.
"UCCS faces a more dynamic, competitive environment than ever before," said Chancellor Venkat Reddy. "We will respond to these challenges by shifting from our historical incremental-based budgeting model to an incentive-based budgeting model that will support our core mission and core strategies."
Colleges and universities across the country have been moving to this new model for the last decade, but the pace has accelerated since the Great Recession. The most common reasons for budget redesigns have been to strength allocation procedures, promote revenue growth, increase efficiencies and transparency, and align institutional incentives.
"This will give us a clear, predictable and transparent system that will move us forward as a university," Reddy said. "It will push us to meet our strategic goals, it will help us realize the mission of our campus, and it will help plan for the long-term success of our university."
Huron Consulting Group, which has worked with more than 65 colleges and universities across the country including CU Denver, will work with a campus steering committee to implement the new budget model in 2021.
Provost Tom Christensen and Chuck Litchfield, vice chancellor for administration and finance, will co-chair a steering committee. Suzanne Scott, executive budget director, and Enid Ruiz-Mattei, associate budget director, will serve as ex-officio members of the steering committee.
The members of the committee include:
Kevin Laudner, dean, Helen and Arthur E. Johnson Beth-El College of Nursing and Health Sciences
George Reed, dean, School of Public Affairs
Rob Block, associate dean, College of Business
Alex Ilyasova, associate dean, College of Letters, Arts & Sciences
Laura Edwards, finance manager, College of Engineering and Applied Science
April Keller, finance manager, College of Education,
Dale DeBoer, College of Letters, Arts and Sciences chair of the University Budget Advisory Committee
Sylvia Mendez, College of Education and Faculty Assembly appointee
Carlos Garcia, interim vice chancellor of student success
Corrie West, University Development and president of Staff Association
"This model will help us align our financial resources to our core strategies, create a system for revenue and cost allocation that is fair and transparent, align authority and accountability at the unit level, provide us with incentives to grow revenues and reduce costs, give us greater financial flexibility and allow to respond more quickly and more effectively to change," Reddy said. "It will also provide increased support for our hard-working faculty and staff, and provide a richer student learning experience, promote entrepreneurship, creativity, innovation, and collaboration."
Chancellor Reddy expressed his appreciation for the feedback since the Town Hall. "I know any type of change brings some level of anxiety," Reddy said, "but change is how we move forward, especially in challenging times. I have great confidence in our faculty and staff to predict a successful outcome."
The full slide presentation from Huron Consulting is available under the intentional revenue viability section on the 2030 Strategic Plan website. A feedback form is available at the bottom of the page.