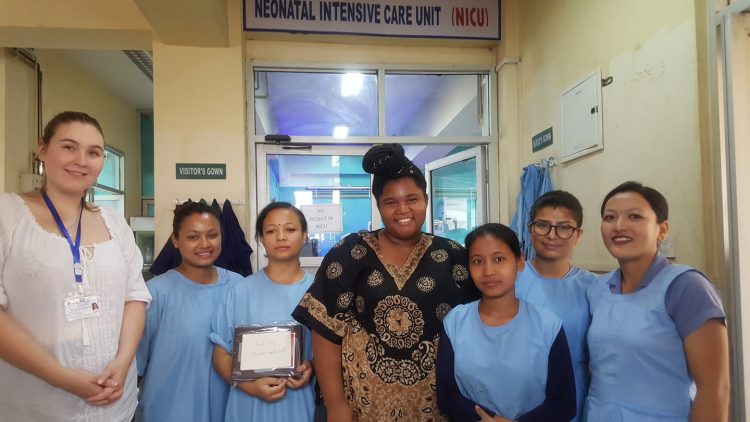 The summer before her senior year, nursing major Adrianne Thompson '19 completed an internship abroad, immersed herself into a new healthcare system and ticked "visit a new country" off her to-do list – all in four weeks.
Thompson spent the month in Kathmandu, Nepal working with newborns in the capital's largest teaching hospital. Along the way, she fell in love with the NICU – the neonatal intensive care unit – and made friendships that have lasted even across oceans and time zones.
"I wanted to take the summer to get a preview of the clinicals I would be doing my senior year at UCCS," Thompson said. "I knew I wanted to work in the NICU and experience midwifery and delivery, so I was looking at nursing internships abroad that focused on those areas. That's how I came across Work the World."
Work the World is a Great Britain-based organization that plans, organizes and oversees healthcare internships in the developing world for both students and graduates. Because Thompson wanted to focus on newborn care, the organization recommended an internship placement in either Takoradi, Ghana or Kathmandu, Nepal – both in hospitals with extensive NICU that see a high volume of births. Thompson picked Nepal.
"I went to the biggest teaching hospital in the capital," she said. "It was a go-to area for everything, including teaching students from all over the world. There were a lot of births, so I was happy about that. I spent two weeks in pediatrics, within that area I visited the PICU" – the pediatric intensive care unit – "the NICU and general pediatric populations."
She continued, "I fell in love with the NICU. I made a lot of friends with the nurses there. I was only supposed to be there for three days, and I was there for ten. I didn't want to leave."
Thompson spent her ten days in the NICU learning techniques to care for mothers and newborns, focusing especially on infant care in a resource-scarce environment. She shadowed nurses as they taught new mothers how to breastfeed, learned how to hold premature infants and practiced starting an IV on an infant.
"One baby had a cyst growing on his liver, and it was so massive that it was causing his stomach to swell under the pressure," Thompson recalled. "He couldn't eat anything by mouth. He was a really miserable baby, and it was heartbreaking."
"A couple of days after his birth, he went to surgery and the cyst was removed. The next time I saw him, he was drinking milk properly and the swelling in his stomach had gone down significantly. He was an absolute delight to take care of."
A highlight of the experience was the close bonds Thompson developed with the nurses she worked with.
"The nurses went out of their ways to create opportunities for me to learn," she said. "When I was working in obstetrics, I got to see five C-sections, one of which included the birth of twins. I saw at least a dozen natural births."
She assisted in the births when the nurses needed an extra hands, but recalls her days in the nursery with the infants most fondly.
"I was mostly there to observe and see what their practice was," she said.
"Over there, their care is a bit colder than it is here in the US. They're not very lovey or touchy with newborns. When the babies would cry, [the nurses] would let them cry. It was very strange for them to see me cuddle or talk to babies, because I would go from baby to baby in the nursery and talk to them and calm them down."
"On my last day in the nursery," Thompson said, "one of the nurses that I'd been working with sang a lullaby to a baby to calm him down. She posted on Facebook saying goodbye to me, and she wrote, 'While you were learning from us, we were learning from you.'"
"It touched my heart."
After graduating from UCCS in 2019 with her bachelor's in nursing, Thompson began work at the NICU at Children's Hospital in Colorado Springs.
She'll begin graduate school in January to earn her master's in healthcare administration. After earning her degree, Thompson wants to spend seven or eight years getting hands-on NICU experience under her belt before moving to labor and delivery.
And after that? She dreams of opening her own hospital in a developing country.
"It's a lot of work ahead of me, but I think I'm up to the task," she said. "My experience in Nepal really opened my eyes as far as what could be done in healthcare in other countries. The hospital that I want to found, I want it to focus on high-risk pregnancies."
Thompson shared that during her time in Nepal, nurses struggled to deal with "multiples" – pregnancies with multiple complicating factors, such as the birth of twins or mothers with preeclampsia or diabetes – all while working with vastly fewer resources than hospitals in the U.S.
She hopes that by opening her own hospital, she could help make pregnancies safer for both mothers and children.
Before that, she has years of experience to gain – and she doesn't feel like her experiences need to be limited to the U.S.
"I definitely want to go back to Nepal," she said. "The director of the pediatric department basically adopted me. She told me, 'As long as I work here, you have a job here if you want it.'"
"I was really happy with the connections that I made," Thompson said. "I met such good people. Once they accept you, you're as good as gold to them. You're family."
Thompson still stays in touch with the friends she made in Nepal, and hopes to bring some of the practices she learned there – like the 30-minute morning tea breaks she enjoyed with her team – to her new job in the U.S.
And she hopes that others will feel inspired to take their professional development abroad, experience other cultures and open their eyes to new ways of working.
"It humbles you," she said. "It humbled me."