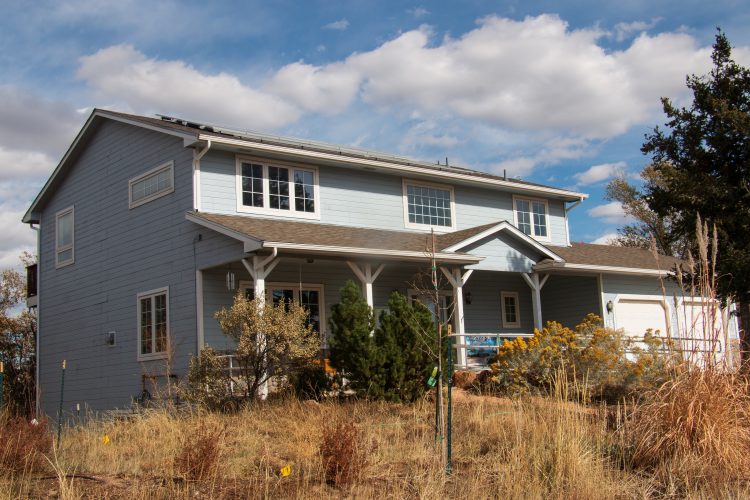 What is sustainability? Is it as simple as making environmentally-friendly choices? Or is it as complex as considering how to improve the quality and equity of human life?
According to Kimberly Reeves, senior sustainability program manager at UCCS, it's all these things and more.
"We're really emphasizing sustainable actions for the self," Reeves said during a recent tour of the Sustainability Demonstration House, the home of the Office of Sustainability at UCCS.
"We're asking, 'How are we, as people, going to sustain ourselves and the world, without riding our bikes everywhere?' In a wider sense, how can we live our lives so that we have the energy to make mindful choices?"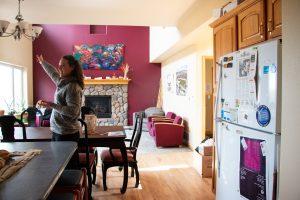 Sustainability can be complex, and the Office of Sustainability at UCCS works to promote three specific types: social, economic and ecological sustainability. It ensures new buildings are constructed with energy efficiency in mind – 13 buildings on the UCCS campus hold the coveted Leadership in Energy and Environmental Design Gold certification – and works to promote renewable energy sources and reduce the university's dependency on nonrenewable ones.
It also runs the Sustainability Demonstration House, which models techniques to reduce water and energy bills, improve the quality of indoor environments and reduce the net energy consumption of regular homes.
And to broaden its impact, the office empowers the UCCS campus to make positive change through its Green Action Fund, which provides grant funding to those who want to implement sustainable practices on campus.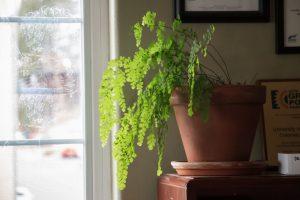 Over 100 projects have received funding since its 2012 inception. Among the funded projects are recognizable features on campus, such as the outdoor tables near the University Center which feature solar-powered charging ports, water bottle filling stations and the solar panel system on the roof of the Sustainability Demonstration House.
Some of the most impactful projects are those campus community members may have never heard about. In 2013, three UCCS students were awarded a Green Action Fund grant to retrofit 233 toilets in Summit Village with dual flush and low flush models. The switch has saved the university tens of thousands of dollars annually in water savings. And the old toilets weren't sent to a landfill – as part of Colorado Springs Utilities Commodes to Roads program, they were crushed into bits of porcelain and used as base for the sidewalks of the Alpine Village student housing development.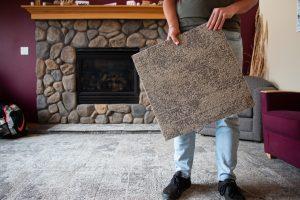 "Full circle, that's sustainability," said Mae Rohrbach, the UCCS student who, along with students Oren Facey and Zach Jensen, made the original proposal in 2013.
Reeves highlighted that especially on a university campus, sustainability is about more than just going green. For students, faculty and staff, it can mean being mindful about health and wellness and encouraging a sense of place – all of which help people feel more connected to their environments.
That mindset was the inspiration behind the PIPs – Positive Impact Points – rewards program, which the Office of Sustainability debuted this semester. Ten percent of UCCS students already participate in the program and gain rewards for small, positive acts.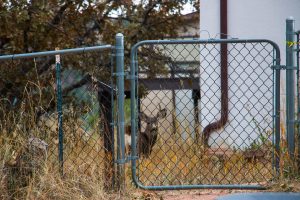 Through the PIPs mobile app, students are rewarded each time they do something that sustains the planet, the community or their own wellbeing. Riding a bike, refilling a water bottle and touring the Sustainability Demonstration House earn a student points – but so does taking a fitness class at the Gallogly Recreation and Wellness Center and learning about volunteer opportunities in the community.
"The goal of the PIPs program is to either make a habit or reinforce habits that are already there," Reeves said. "It's about destigmatizing sustainability, encouraging mindfulness, and reiterating the good choices that students already make. Hopefully, it helps them realize that they make small impacts for good every day."
"PIPs is about planting the seed and watering it with habit," said Ryan Maikell, a student worker at the Office of Sustainability who focuses on engaging students with the program.
"We hope those habits stick," Reeves said. "We hope it helps them become global citizens and help change the culture of wherever our students go on to live and work."
For many people, the thought of making their own lifestyles more sustainable can be overwhelming.
But Reeves and Maikell stress that at its heart, sustainability can be simple. For most people, it means making small changes that yield a big impact – from bringing plants into their homes to improve the quality of the air they breathe to learning how to reduce home and office energy bills with eco-friendly solutions.
Reeves encourages campus community members to schedule a free tour of the Sustainability Demonstration House, check a book out of the Sustainability Library or book the office's 12-person conference room to start the conversation about those small changes.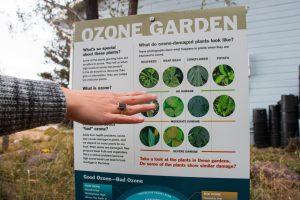 "What goes on in the Demonstration House can be translated to your own home and your own life," she said.
"Sometimes the economic reality is out of reach. There are barriers for many people. So what can you do to create a better life for yourself?"
"Let's have that conversation."
Questions about sustainability? Want to learn more about the work of the Office of Sustainability? Contact Kimberly Reeves. Questions about the PIPs program? Contact Ryan Maikell.
Pictured:
The backyard of the Sustainability Demonstration House functions as a certified wildlife habitat.
Nicknamed a "bee hotel", this wooden post provides homes for burrowing bees and provides a vital and missing nesting habitat.
Experimental gardens feature prominently outside of the house, including plants that monitor ozone levels in the air.
The "guzzler" fountain is a drinking pool for local wildlife. A wildlife camera mounted nearby snaps shots of visitors.
Reeves flips through a book borrowed from the Office of Sustainability's library.
Campus members are invited to check books out of the Office of Sustainability's library.
Spider plants, aloe plants and peace lilies clean toxins and allergens from the air.
Indoor plants feature prominently in the house to cleanse the air of allergens and impurities.