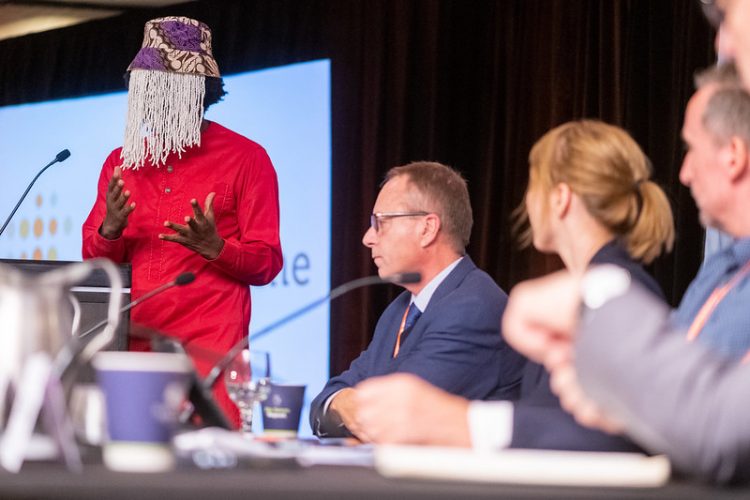 Over 300 attendees and 170 speakers gathered in Colorado Springs to discuss the challenges and integrity of world sport at the 2019 Play the Game Conference Oct. 13-16. The 11th edition of the conference, entitled Athlete Power on the Rise, crossed continents for this first time in history to deliver a timely discussion of critical sport and society, all within Olympic City USA.
Play the Game 2019 commenced on Sunday with a presentation and panel from Russian whistleblowers Yuliya and Vitaly Stepanov. The couple, previously appearing by webcam at Play the Game conferences, stepped into the spotlight to share their stories and struggles in exposing the Russian state doping scandal. Yuliya was a member of the Russian national track and field team and Vitaly served at the Russian Anti-Doping Agency (RUSADA). Together, their revelations into the Russian doping scandal caused a ban on Russia's Track and Field Team's participation in the 2016 Summer Olympic Games.
Yuliya wasn't the first nor will be the last athlete to speak up on ethical and societal issues in sport. In recent years, sport has witnessed a dramatic surge of athlete activism in a broad range of issues such as equal pay, social injustice, sexual assault and politics. In the era of the #metoo, #blacklivesmatter and #takeaknee movements, sport has quickly become a platform to discuss perceived injustices in sport and around the world.
"Athlete engagement comes in various shapes and forms, but it is undeniable and hopefully irrevocable. It may have the potential to transform the world of sport," said Jens Sejer Andersen, International director at Play the Game, in his opening speech.
With a heightened emphasis on athlete power, the conference program held over 40 sessions to discuss several key themes: Anti-Doping, Children at Risk, Sports Governance, Rethinking Sport and Physical Activity, Breaking News or Faking News and Corruption and Crime in Sport.
Anti-Doping
Anti-doping took center stage in multiple sessions as panelists discussed some of the largest doping scandals in sport.
Bryan Fogel, Oscar award-winning director of Icarus, Damien Larin, confidential information manager of the World Anti-Doping Agency (WADA), Bonita Mersiades, whistleblower and author and Yuliya and Vitaly Stepanov all joined a panel to discuss whistleblowing in sport, with a heavy emphasis on the Russian doping scandal in 2016.
Fogel received widespread recognition for his documentary on doping-whisteblower and former head of Russia's national anti-doping laboratory, Grigory Rodchenkov. In a heated discussion, the panel questioned the authenticity of Rodchenkov's whistleblowing, since his testimony came only after WADA closed down the Russian lab and exposed his work in doping. Yuliya and Vitaly claimed Rodchenkov could have stopped the systemic doping in Russia for years.
In a different session, Russian Anti-Doping Agency (RUSADA) director Yuriy Ganus and U.S. Anti-Doping Agency (USADA) director Travis Tygart discussed the future of anti-doping, alongside Beckie Scott, chair of WADA's Athlete Commission, Michael Ask, the chairman of the Institute of National Anti-Doping Organizations (iNADO) and Hajo Seppelt, head of producing at EyeOpening.Media.
Panelists argued that if WADA could simplify regulations for undeveloped and developing parts of world sport, it may reduce the level of doping in underrepresented regions. Referencing The Copenhagen Declaration, Ask believes WADA can avoid future conflicts of interest by keeping its representatives independent from any other board or position in sport organizations from which WADA regulates.
Children at risk
The highly publicized U.S. Gymnastics scandal brought athlete abuse to the forefront of sport discussions.
Marcy Harvey, CEO of the Center for Sport and Human Rights, posed a question to the Play the Game audience in a session on sport abuse:
"We have very high expectations when it comes to the safety of our kids in the educational system. But when you drop your child off at baseball, at soccer practice, are you sure that the same safeguards are in place?"
Panelist Nancy Hogshead-Makar, Olympic medalist and CEO of Champion Women explained that the very nature of athlete-coach relationships breeds vulnerable situations for children. She believes the key to stopping abuse is to empower the athlete so they feel comfortable speaking up.
Ju'Riese Colon, CEO of the U.S. Center for SafeSport, reported a significant increase in the number of abuse reports SafeSport has received since the U.S. Gymnastics scandal. The increase, according to Colon, has a direct correlation to the number of victims speaking up.
Hogshead-Makar received the 2019 Play the Game Award for over 30 years of work helping young female athletes and victims of sexual abuse in sport.
"The publicity surrounding Nassar and other serial abusers had likely prompted others to come forward," said Colon. "We must have a clear definition of what is acceptable and what is not."
Marci Hamilton, CEO of Child USA, says the reason serial abusers are able to get away with years of abuse is because of a systemic culture of secrecy and silence. Sport organizations, parents, coaches and all those involved are to blame for ignoring warning signs and failing to report abuse.
"The Nassar case is not unusual. There will be more," said Hamilton. "What we lack is the truth about what's actually happening on the ground. Our children are not safe. We have so much work to do" (playthegame.org).
Sports Governance
In an effort to measure the performance of sport organizations towards good governance, Play the Game introduced the National Sports Governance Observer (NGSO) in 2015.
The NGSO provides indicators for assessing good governance in sport federations across four dimensions: transparency, democratic process, checks and balances and solidarity. The tool was updated in 2018 and the 2019 report showed progress towards good governance but with significant room for improvement among sport federations.
UCCS Sport Management's assistant professor Spencer Harris presented on the strengths and weaknesses of the NGSO tool, calling for adjustments to make the data collection process, cooperation and measurements more proportionate across the varying sizes of NGBs.
"Do all indicators measure good governance in the way that was intended? Are all indicators equal? Do we need 274 indicators to measure good governance? Is the NSGO adaptation proportionate to the capacity of small-large NGB's? How do we better consider the conditions of different cultural settings? How can we more effectively assess governance practices?" Harris asked in his presentation (playthegame.org).
Athlete representation was also widely discussed. In the session, "Who has the right to stand up for athletes?" the panelists agreed that athlete associations and unions may be a viable option, though barriers still exist.
Dissenters argue that athletes lack the competency to organize independently, but Ashley Labrie, executive director of AthletesCAN, believes this is false.
"We believe the idea that athletes don't have the competence to serve on a body is false," said Labrie. There are plenty of athletes that have the competency outside of sport that makes them better than some of the people serving the sport."
Panelists agreed that while the organizational structure of athlete representation may be up for debate, giving athletes a seat at the table is essential.
Rethinking sport and physical activity
As childhood obesity rates continue to rise and sport participation rates fall to all-time lows, Play the Game speakers explained their strategies for tackling grassroots sports in the U.S.
Chris Snyder, director of coaching education at the U.S. Olympic and Paralympic Committee (USOPC), says one of the major flaws of the U.S. youth sport system is the "adultification" of young athletes.
"The current U.S. system is professionalizing athletes too young. Specialization is being taken too extremes," said Snyder.
The panelists were in consensus: all children should be physically literate by age 12.
Tom Farrey, executive director of the Sports & Society program, Aspen Institute, discussed the 2015 Project Play Report, which details how to provide access to sport for all adolescent children across the U.S. The report demonstrates the compounding physical, mental and social benefits of sport activity from an early age.
The Project Play Report set the foundation for the USOPC's American Development Model, according to Snyder. The American Development Model provides structure to U.S. grassroots and supplies resources to ensure coaches, parents and clubs are applying age-appropriate expectations to children in sport. The model has been adopted by over 50 national governing bodies.
Elizabeth Daniels, associate professor at UCCS, argued that the barriers are even higher for girls in sport. Daniels discussed the lack of coverage for female sporting events, the representation of women sports in the media and how the sexualization of female bodies affect young girls' perceptions of sport at an early age.
Breaking News or Faking News
In a session titled, "Media narratives under scrutiny," panelists discussed the skewed narratives and misrepresentation of athletes in sports media.
Sabrina Razack, educator at the University of Toronto, presented on the misogynoir of Naomi Osaka, a Haitian and Japanese professional tennis player. Razack argues that mainstream media identifies Osaka solely by her Asian ethnicity and does not highlight her Haitian heritage, which forces Osaka to overly defend her black heritage in front of media.
"Mainstream media are contending with increased number of athletes that do not fit binary colonial classifications of race and identity," said Razack. "The purpose [of the presentation] is to highlight how complexities of identities require more of an understanding by the mainstream media."
Sada Reed, assistant professor at Arizona State University, presented on Lance Armstrong's "hero narrative."
"It's very easy to silo people into stereotypes," said Reed. Once someone has been presented as a hero, so to speak, it is hard for the public to grasp them being a villain right away."
Reed believes that journalists perpetuated the narrative of Lance Armstrong as hero, which, despite his doping confession, allowed his public perception to remain in tact longer than it should have.
Corruption and Crime in Sport
In the last session of the conference, Play the Game participants were addressed by the award-winning undercover investigative journalist, Anas Aremeyaw Anas. Anas discussed his exposé into corruption and match-fixing in Ghana, in which he successfully took down former Ghana Football Association President Kwesi Nyantakyi. Anas's work against corruption requires him to live in anonymity to protect himself from those who wish to silence his efforts.
"Football is supposed to unite us," Anas said. "But I knew that it was causing problems in society. When I took a closer look, I found that match-fixing was not a figment of anyone's imagination. It was real. There are mafias out there. My team and I had to be very careful to ensure that the bad guys did not get to us. Unfortunately, one of my guys was not so lucky."
Anas lost a member of his team, Ahmed Husein, in January 2019. Husein was shot and killed in Accra.
Match-fixing continues to plague sporting events across the world. The U.S. recently lifted a ban on sports gambling in May 2018, which Declan Hill, Canadian author and match-fixing expert, believes will dramatically change the landscape of American sports.
"Legalization will change everything," said Hill. "To introduce such a massive change with hardly any debate is a massive problem. U.S. sport will be utterly transformed. I'm not suggesting that it will happen tomorrow or next year. But unless the U.S. acts now, it will experience the same match-fixing problems as other nations where sports betting is legal."
Hill warned college athletics would be at the greatest risk for match fixing because college-age students are especially susceptible to external influences. To combat inevitable corruption, Hill explains the need for a well-funded integrity unit to monitor sports gambling.
Pressure should be put on professional sports bodies to finance anti-corruption measures, Hill said. "Sports associations have integrity units, but they're all poorly funded," he said. "What we need is an integrity levy on sports gambling. America, you can do it. The torch is in your hands."
About
Play the Game is an initiative run by the Danish Institute for Sport Studies, aiming at raising the ethical standards of sport and promoting democracy, transparency and freedom of expression in world sport. Each year, Play the Game hosts an international, conference to address challenges and issues in modern sport. A new partnership between Play the Game and UCCS brought the 2019 conference to the United States for the first time in its decade-long history. For more information on Play the Game, visit their website.
The University of Colorado Colorado Springs, located on Austin Bluffs Parkway in Colorado Springs, is one of the fastest growing universities in Colorado. The university offers 46 bachelor's degrees, 22 master's and five doctoral degrees. UCCS enrolls about 12,400 students annually and another 3,300 in online programs. For more information, visit the UCCS website.