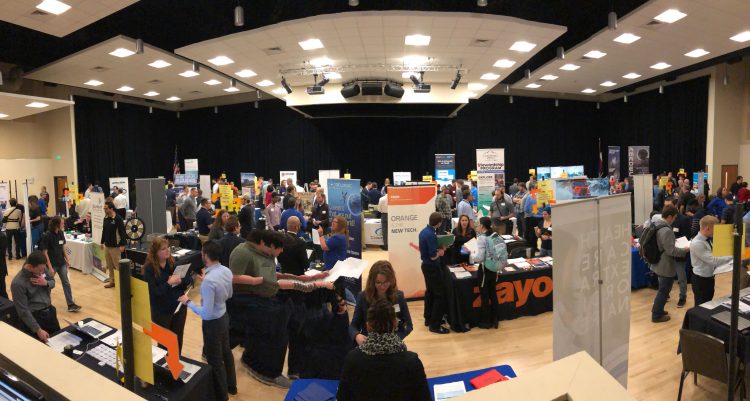 Undergraduate students interested in learning about regional career and graduate school opportunities are encouraged to visit with representatives from UCCS and other institutions at the 2019 Career and Graduate School Fair on Oct. 8. UCCS and 14 other schools will be available from 10 a.m. to 2 p.m. at Berger Hall to answer questions for students in multiple degree programs and graduate certificates.
UCCS offers 24 master's degrees and seven doctoral programs. Six programs were recognized as national leaders by U.S. News & World Report in March 2019, and five online graduate programs were honored in January 2019,  For enrollment information, call (719) 255-3417, email gradinfo@uccs.edu or visit the Graduate School office in Cragmor Hall 110.
The other graduate programs, including universities with multiple representatives, are: 
Bastyr University
Colorado Mesa University
Colorado School of Public Health
Colorado State University
Metropolitan State University of Denver

MBA or MPAcc
School of Social Work

Newman University
Ross University School of Medicine
University of Colorado Boulder
UCCS, all graduate programs

UCCS College of Business
UCCS School of Public Affairs

University of Colorado Denver | Anschutz Medical Campus

CU Skaggs School of Pharmacy
Anschutz Medical Campus Modern Human Anatomy Program

University of Denver

Morgridge College of Education
Sturm College of Law
University College

Prescott College
Washburn University School of Law
Western Colorado University
Willamette University MBA
Multiple employers seeking job applicants are also scheduled to attend (as of Sept. 27):
Aurora Police Department
Beacon Hill Staffing Group
Buckle
CaptionCall
City of Colorado Springs Parks, Recreation & Cultural Services
Colorado Department of Transportation
Colorado Springs Utilities
Consolidated Electrical Distributors, Inc
Early Connection Learning Centers
EcoMark Solar
Medpace, Inc.
Peace Corps
Premier Roofing
Sanborn Western Camps
Space Camp
Teach for America
Timberline Landscaping
T. Rowe Price
UnitedHealth Group
USAA
Additional information on the businesses, organizations and graduate programs, including academic focus areas for graduates, can be found at https://www.uccs.edu/career/fall-career-fair-employer-list-19.