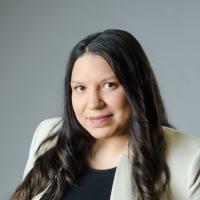 A leadership trainer and developer with more than a decade of experience will be the new program director for the Chancellor's Leadership Class and UCCSlead. Sloan Gonzales, who most recently worked as a program manager at Leadership Pikes Peak, started in her new role August 12.
"I'm honored and humbled to be returning to my alma mater in a full-time role to develop the future leaders of our region," Gonzales says. "The Chancellor's Leadership Class and UCCSlead programs are unique to UCCS and I'm privileged to be able to develop the amazing student leaders on our campus."
Gonzales was a program manager for Leadership Pikes Peak for the last three years and oversaw the young professional (LNOW!) and community women's leadership (WCLI) programs. She created and facilitated community leadership programming and interacted with nonprofits to create community projects for program participants and solicited sponsors, donors and grants for the two programs.
Gonzales has taught communication courses at UCCS since 2017 and at Pikes Peak Community College since 2018 in the areas of intercultural communication, workplace communication and public speaking. She developed curriculum for the Pre-Collegiate Development Program and taught a Gateway Program Seminar course for competitive speaking for the past three years.
Gonzales earned her bachelor's degree in sociology from UCCS in 2010 and her master's degree in communication with a focus on leadership and identity in 2016. She was a Colorado Springs Business Journal Rising Star in 2018 and named a Leadership Pikes Peak Community Trustee in 2013. Gonzales was also a mentorship program lead with the Colorado Springs Rising Professionals from 2016-18.
"Sloan's experiences in leadership development, philanthropy and teaching are a match for the complexities of the program director role, and we are excited to see her lead the CLC and UCCSlead programs to the next level of excellence," says Brad Bayer, senior executive director of student life and assessment.
The Chancellor's Leadership Class is a four-year undergraduate leadership development program initiated in 1997. It is designed to engage scholars with members of the Colorado Springs community to nourish positive community impact through leadership and training.