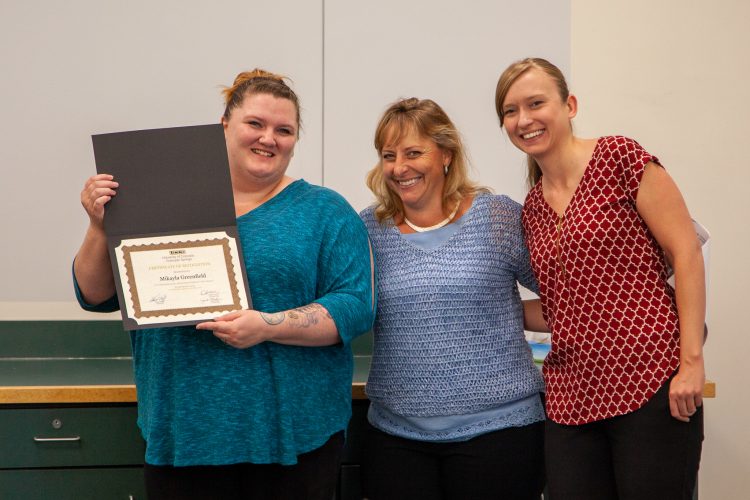 Mikayla Greenfield is all about efficiency. But it isn't just her commitment to streamlining operations in Facilities Services that earned her Employee of the Quarter for April to June of 2019: it's her compassion and composure under pressure.
"The amount of responsibility put on Mikayla′s shoulders is staggering, and I am humbled by the level of professionalism she exhibits daily," wrote Mark Means – the materials, acquisition, and distribution supervisor for Facilities Services – when he nominated Greenfield for the award.
Greenfield's colleague Chavon Harrell agrees. "She is always looking for ways to not only improve processes, but to bridge gaps and encourage teamwork through living the values of UCCS." 
Greenfield's role as a work management administrator has stretched to cover gaps in Facilities Services' personnel. She builds and manages the department's work order system, runs trainings and oversees accounting tasks like journal entries and purchasing cards. In the temporary absence of a supervisor, Greenfield is also processing payroll for the department.
"Mikayla is the foundation of our Facilities Services operations," Harrell wrote in her nomination. "Her job description does not cover what she gives back to UCCS."
"I'm just always trying to make sure that I'm meeting deadlines," Greenfield says, "and making sure that everything is accurate and effective. I try to be very timely so that my processes don't ever hold up the department or my team." 
Greenfield has a knack for speeding up those processes. She and Harrell were part of a team that won a CU Innovation and Efficiency Award in 2018 for creating a faster, paperless system to process campus-wide utility bills.
"I had been processing utility bills individually," Greenfield says. "And at that time we were getting 100 utility bills every month in paper, plus duplicates of every bill, because we needed copies to send out on campus to every department."
Greenfield transitioned the paper copies into a paperless environment to reduce waste. Then she and Harrell created an import spreadsheet that acted as a utilities tracker, allowing them to upload utility report data into the state-required software system all at once.
"It was taking days to enter the data in, line by line, before we put the sheet together," Greenfield says. "And once we got the sheet put together it took about an hour."
Greenfield's colleagues highlight a smile that "light[s] up the office", paired with a self-starting quality that contributes to Facilities Services' recognition as "a department that never quits." 
According to Means, "Without her strong leadership and her ability to manage multiple deadlines and priorities, all while maintaining a calming level of composure, Facilities Services would be at a loss." 
As part of the Employee of the Quarter award, Greenfield will receive a $100 stipend, three months of a free and reserved parking spot, a $40 voucher to the UCCS Bookstore and one day of administrative leave.
She will likely spend her day off up in the mountains – "That's my escape," she says – fishing or seeing the leaves change color with her husband. She might also top it off with an episode of "Stranger Things" (she's currently on season three) or have friends over to play the card game Magic: The Gathering.  
"When I'm not at work," Greenfield says, "I'm just enjoying all the people in my life." 
Do you have a colleague whose extraordinary efforts at UCCS deserve to be recognized? Nominate them for the Employee of the Quarter award.