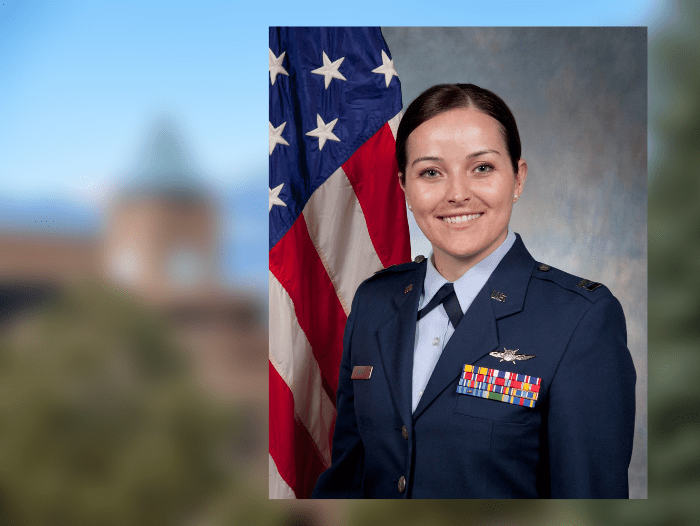 Alyssa Ortiz didn't start her academic career in math, and she didn't start her professional career in academics. But that didn't stop her from becoming UCCS' first student to earn a Ph.D. in Applied Science in Mathematics this spring.
From physics to math
Ortiz – an Oregon native – moved to Colorado at age 18 to enter the U.S. Air Force Academy, where she received a bachelor's degree in physics in 2007. After earning commission as a second lieutenant in the Air Force, Ortiz was stationed at Tinker Air Force Base in Oklahoma City, then deployed to Al-Udeid Air Force Base in Qatar.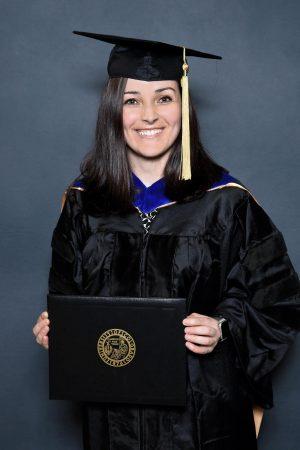 It was in Qatar, working as a communications officer, that Ortiz heard about an opportunity to earn a master's degree sponsored by the Air Force Academy – if she was a competitive enough candidate to earn one of two open positions teaching as an active duty officer in the Air Force Academy's department of mathematics.
Ortiz earned both the position and the sponsorship. In 2010, she began working towards her Master of Science in Applied Mathematics at UCCS. After graduating in December 2011, Ortiz began teaching calculus, differential equations and linear algebra in January 2012.
"The whole experience was really fast," Ortiz says.
She continued, "The thing about getting sponsored by Air Force is that everything is paid for.The downside is they don't give you much time to get a degree, because they want to get you back and serving. So, I had 18 months to get my master's. It was challenging because of the timeframe, but what was really challenging was to even bridge the gap from physics to math and still complete a degree in 18 months."
"I feel really blessed to say I came out on the other side having successfully completed that."
From a master's to a Ph.D.
Ortiz taught at the Academy as an instructor of mathematics for a total of three years. By the end of her tour in 2015, the math department offered her another sponsorship opportunity: this time to earn her Ph.D.
"They told me that no one had ever graduated from this program before. But I said, 'Well, there's got to be a first, right?'"
But Ortiz faced a tough decision. In 2015, the Air Force lost several communications officers in Ortiz's year group. Any assignments outside of that track were not subject to approval, and earning a doctorate in mathematics was far outside of Ortiz's career field. To earn her Ph.D. and continue teaching, she would have to leave the Air Force entirely.
"I had a major choice on my hands," Ortiz says. She had been active duty in the Air Force for eight years and was nearly halfway to accumulating the 20 years of service that earn retired service members a lifelong pension.
"Potentially giving up a good career and a guaranteed career path was a really hard choice," she says. "But at the same time, I really wanted to pursue academics. I always suspected I would like teaching, but the initial assignment from the Air Force really cemented that. It ruined me for communications!"
First (and only) in her class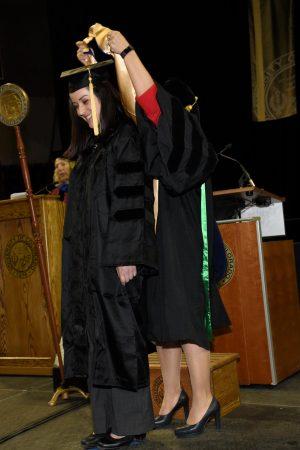 In 2015, Ortiz made the decision to leave the Air Force and pursue her Doctorate of Applied Science in Mathematics at UCCS. This time, she was a civilian – and the first and only student in the doctoral mathematics program.
"I was already familiar with the department and had a relationship with the faculty," she says. "It's a smaller department, so it's like a family."
"I felt really supported, but at the same time they told me that no one had ever graduated from this program before. But I said, 'Well, there's got to be a first, right?'"
Ortiz asked Professor of Mathematics Barbara Prinari to serve as her advisor. While Ortiz formulated a body of work for her dissertation, the two collaborated on research in Prinari's primary area of interest, nonlinear waves. Their joint research was published in "Studies in Applied Mathematics" under the name "Inverse Scattering Transform and Solitons for Square Matrix Nonlinear Schrödinger Equation."
While the math is complex, the practical applications are real. One conclusion of the research is that using new materials for fiber optic cables could allow transmissions to self-perpetuate, allowing communications to travel over far longer distances without amplification.
Ortiz says that becoming a published author in math was a highlight of her experience in the doctoral program.
"To see my name in print was amazing," she says. "It was surreal. I remember calling my parents and saying, 'Guess what? I'm a published author!'
"Most of the time I just see myself as a mathematician and I just so happen to be a woman, but every now and then the gravity of it all hits me – the capability I have to inspire."
"They didn't understand a word of the paper," she continues, laughing. "They pointed out various words and asked me how they were pronounced. But they were really proud."
Mathematician first, female mathematician second
Ortiz doesn't highlight the fact, but when she graduated in spring 2019, she wasn't just the first UCCS student to earn a Ph.D. in mathematics – she was the first woman to graduate from the program, too.
When asked about it, Ortiz says, "It's a really unique, awesome side note."
"I know that there are not many female mathematicians at this level. People would point it out to me: 'You would not only be the first person to graduate from this program, but you would be the first woman, too.'
"It is historical. It makes me feel humbled and honored, because I know accomplishments by women do inspire other women who might be thinking about pursuing science or mathematics at a high level. And it did inspire me to work with Barbara, because of how brilliant I think she is."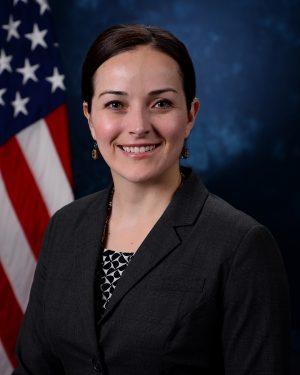 Ortiz says that working with Prinari opened her eyes to the capacity they both have to inspire future female mathematicians.
"What really got me," Ortiz says, "was going to conferences with Barbara and just seeing how much she is respected in her area of mathematics. She truly is a leader. She's not just part of that world, she's a trailblazer in that world."
"Most of the time I just see myself as a mathematician and I just so happen to be a woman, but every now and then the gravity of it all hits me – the capability I have to inspire. Because I know how I looked at Barbara, and what if someone looked at me that way?"
"You step outside of yourself for a moment and say, this is pretty cool."
Returning to the Air Force
Now that she's earned the highest degree in her field, Ortiz is getting back to her roots: she accepted a civilian assistant professor position at the Air Force Academy right after graduation.
This fall, she'll be teaching Calculus I to Air Force cadets. She'll also be reacquainting herself with the balance of teaching and conducting research.
"The circle is complete."
While she doesn't expect to teach more advanced mathematics courses for at least a few years, Ortiz doesn't mind. Her favorite part of teaching is helping students who don't enjoy math to feel more confident with calculus and differential equations.
And she expects to continue her mathematical research – all of which has practical applications in the world of physics.
"This is the cool thing for me," she says. "My journey started in physics as an undergraduate, and all these years later, I'm back to understanding physics again from a mathematical perspective."
So too is Ortiz back to the Air Force Academy, having gone from active duty military to a civilian to an assistant professor.
"The circle, she says, "is complete."