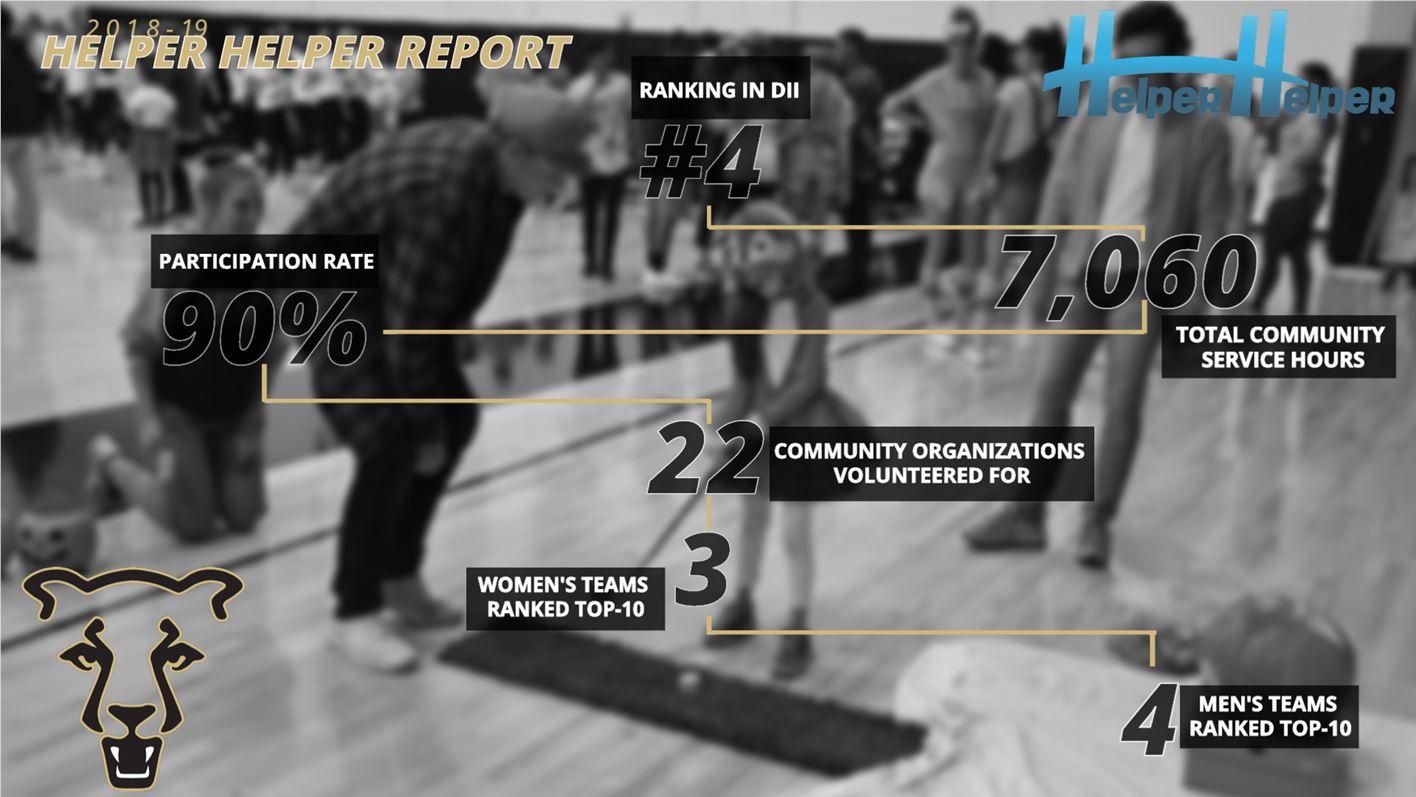 In a recent 2018-19 NCAA Division II report developed by Helper Helper, UCCS student-athletes ranked No. 4 in the nation with 7,060 volunteer hours recorded. The Mountain Lions also have four men's teams that rank in the top-10 in Division II men's sports, and three women's teams within the top-10 in Division II women's sports for community service hours.
UCCS made its way into the number four spot in the nation by volunteering with 22 community organizations, and maintaining a 90% participation rate to reach 7,060 hour of community service. Notable projects included making more than 700 valentines for children at Denver's Children Hospital, raising more than $1,800 for Make-A-Wish and gathering more than 800 cans of food for the UCCS Campus Holiday Project.
On the men's side, UCCS ranks among the top-10 in volunteer hours for four different sports:
Basketball: No. 10 (331 hours, 22 hrs per student-athlete)
Track & Cross Country: No. 5 and No. 8 (406 hours, 15 hrs per student-athlete)
Soccer: No. 2 (1,200 hours, 39 hrs per student-athlete)
Among the women's teams, the Mountain Lions claim top-10 rankings in three different sports:
Soccer: No. 3 (866 hours, 30 hrs per student-athlete)
Track & Cross Country: No. 8 (580, 15 hours per student-athlete)
Lacrosse: No. 3 (654 hours, 26 hrs per student-athlete)
The women's basketball program registered the most hours per student-athlete at UCCS with 801 community service hours, and averaged a department-high 57 hours per student-athlete.
Helper Helper and the NCAA teamed up to help encourage student-athletes from over 200 schools to make a lasting impact on their communities. The volunteer management platform benefits organizations of all sizes by tracking and coordinating their service. Helper Helper simplifies the organizational efforts for volunteer coordinators and helps volunteers easily find and schedule events. The 2018-19 report highlights top teams, top schools, and the winners of both challenges that Helper Helper hosted this year.