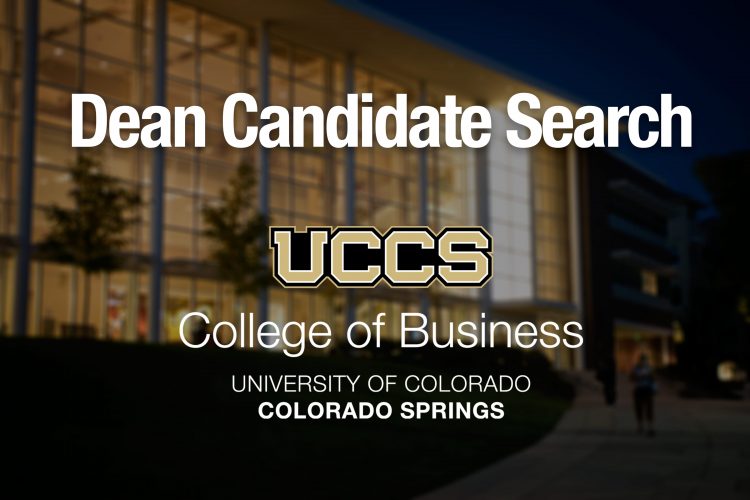 Provost Tom Christensen appointed a 13-member committee to assist in the search for a new dean of the College of Business.
George Reed, dean of the School of Public Affairs, will chair the committee of UCCS faculty and staff representatives. The committee is charged with reviewing candidates and recommending finalists. The position will be the chief academic and administrative officer for the college and reports to the Provost and Executive Vice Chancellor for Academic Affairs. The college has more than 1,300 undergraduate and 350 MBA and distance MBA students in two bachelor's and two master's degree programs.
Eric Olson, director of Sport Management and professor of marketing and strategic management, started as interim dean June 1, 2019.
The committee will be aided by the search firm Odgers Berndston. The complete application and instructions are available through Odgers Berndston. The priority deadline is August 15, 2019.
The committee members are:
Greg Augspurger, instructor of information systems, College of Business
Jill Bradley-Geist, associate professor, College of Business
Robin Bredl, financial administrator, College of Business
Spencer Harris, assistant professor of sport management, College of Business
Shonda Johnson, transfer credit specialist, Degree Audit and Transfer Credit
Martin Key, assistant professor of management, College of Business
James Ma, associate professor of information systems, College of Business
Brian McAllister, associate professor of accounting, College of Business
Mark Paquette, principal program coordinator for Career Development Center, College of Business
George Reed, dean, School of Public Affairs (chair)
Blaise Sonnier, professor of accounting and chair of the Department of Accounting and Finance, College of Business
Elissa Unger, associate director of development, University Advancement
Don Warrick, professor of management and organizational change, College of Business