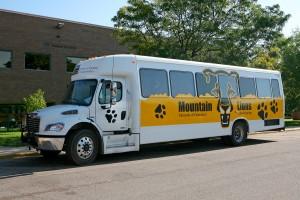 Catching the 7:55 a.m. shuttle bus from Four Diamonds to main campus is part of the daily work rhythm for Elisabeth Moore, ethics initiative coordinator, College of Business.
While her initial motivation to ride the shuttle was saving money, Moore recently explained additional benefits of the decision she made two years ago when beginning a part-time campus position.
"I've recruited more than one," Moore said recently of her conversations with student shuttle riders. "And Tish (Tish Fleener, program assistant, Department of Biochemistry and Chemistry) and I would likely never have become friends if I hadn't ridden the shuttle. The benefits far outweigh any inconvenience."
Moore's alternative to purchasing a HUB permit or parking in the Cragmor neighborhood is important as campus leaders seek to highlight options as UCCS plans for a parking crunch this fall. Student enrollment is expected to surpass 10,000, HUB permit prices will increase to $600 annually for faculty and staff and the City of Colorado Springs has joined with neighbors to keep cars off Cragmor neighborhood streets. The added hassle caused by the widening of Austin Bluffs Parkway led one faculty member to predict "carmagedon" on campus this fall.
Jim Spice, executive director, Parking and Transportation Services, believes such dire predictions can be avoided.
Riding a campus shuttle bus from Four Diamonds to campus remains the least expensive option for faculty, staff and students. Both parking and the bus ride are free with shuttles arriving on main campus every 5 to 15 minutes between 7 a.m. and 10:30 p.m.
For Moore, catching the 7:55 shuttle means arriving at her office in Dwire Hall by 8:15 a.m. On days when she needs to arrive by 8 a.m., she plans to catch a 7:40 a.m. shuttle. She has a Friday-only parking permit and works to schedule off-campus trips for the end of the week. It's all a matter of rhythm, she says.
"You learn to build in a little time at first and, after a while, it becomes the standard," she said.
Moore described her shuttle experience as fun, citing her friendship with Fleener and local history quizzes given by one shuttle driver – a retired Air Force pilot – as examples of unexpected benefits of saving the cost of a parking pass.
But what about faculty and staff members who arrive on campus before shuttles begin? Or those who are on campus one, two or three days a week?
Parking Services offers options that include one, two, and three-day passes for adjunct or honoraria faculty members. The department also sells an "N" permit which allows students, faculty or staff to park at University Hall during the day and on main campus after 4:15 p.m. and all day on Friday. An "N" permit costs $180 per semester, a 25 percent discount over the $240 per semester cost of a HUB permit.
According to Spice, it takes less than 20 minutes or about 2,000 steps to walk from University Hall to Kraemer Family Library, an installment on the 8,000 to 10,000 steps that many wellness experts recommend adults take every day.
Related articles