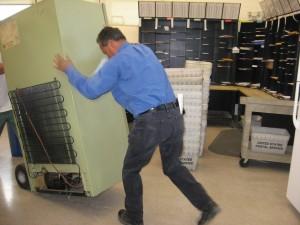 Ten old refrigerators, identified by avocado paint jobs and high energy consumption, were replaced this week with energy efficient models.
Linda Kogan, director, Office of Sustainability, said the new refrigerators were provided by the Governor's Energy Office to decrease energy use and greenhouse gas emissions from state agencies. The ten units were located in the Campus Services Building, Main Hall, Ulrich House, Dwire Hall and University Hall.
"The refrigerators selected for replacement were those that used the most energy," Kogan said. "Some of our older refrigerators use over 1,100 kilowatt hours per year. The new ones will use only 383 kilowatt hours. This initiative will save money each year and prevent over 10,000 lbs. of greenhouse gas emissions."
The old refrigerators were recycled.
For more about the Energy Star program, visit www.energystar.gov