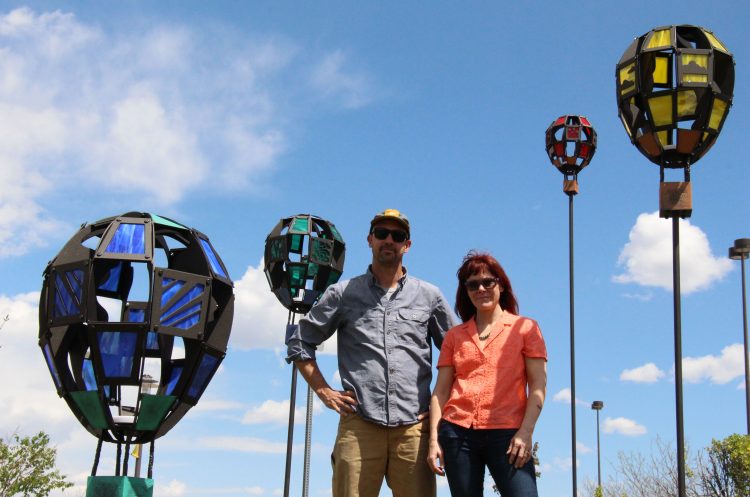 If you've driven by the University Village Colorado shopping center on Nevada, you may have noticed colorful sculptures lining the avenue across from the Ent Center for the Arts. Each fall, UCCS students in the Visual and Performing Arts Department are invited to submit proposals for sculptural work to representatives from the University Village Colorado. Two student designs are selected to be fabricated as large scale permanent outdoor sculptures. This year's winners are Deborah Schoen and Jennifer Marquez.
The two winning student designs are selected by Kevin Kratt, president of Kratt Commercial Properties, and his partners at the commercial real estate group. The students then work through the next phases of the design process and brainstorm possible fabrication plans with Kratt, fabricator Jodie Bliss, and Matt Barton, associate professor and co-director of the visual art program. Finally, the students work with Bliss in her fabrication studio to complete the final pieces.
"We started working with Jodie a couple years ago and the process is very smooth now," said Barton of the process. "The designs are looked over by a structural engineer. Deb's [sculpture] is the first one to be installed in the University Village Center rather than along the west side of Nevada."
This is the ninth year of the program, which has produced 18 completed works.
"It's a really unique program," Barton continued. "I've never heard of another similar opportunity for students that includes a private business funding student sculptures year after year. It's a vital career boost for our students. Many public art opportunities require past completed projects in the submission materials, so it's a catch-22; if you don't have a public art project in your portfolio it's very difficult to ever get selected."
"I'm excited to see where the student designs go from here as the sites for their projects has now opened up to include a range of locations further in the UVC."