Sexual exploits, pranks, and claims about the amount of alcohol consumed or marijuana smoked are not the type of things found on any university-sponsored websites.
But the line between what is and isn't sponsored can be blurry in the free-for-all world of social media.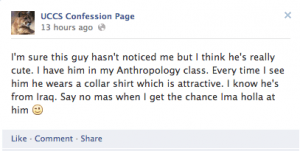 One such social media site has gained the attention of many UCCS students, faculty and staff.
The UCCS Confessions Facebook page was created anonymously in February 2013 to provide UCCS community members a place to share over-the-top and often explicit exploits.
Unlike most Facebook pages or even comments on popular sites, the posts are completely anonymous. The administrators use online survey tools to bypass standard Facebook protocols to receive salacious details of last night's party or musings about the ideal date. There are no names and there is no fact checking.
While such postings sound like bathroom stall writings to earlier generations, the pages are popular on college campuses – both CU-Boulder and CSU Fort Collins have them. They are also becoming popular with high school students for exactly the same reasons. Anonymous – and presumably fictional – postings are far more interesting than real life.
Social media specialist Philip Denman answered specific questions about the UCCS Confessions Page.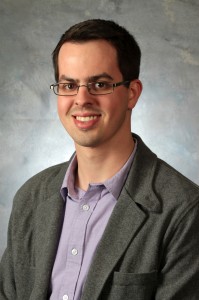 Why hasn't UCCS taken the page down?
The page is unaffiliated with the university. It isn't hosted on our servers, a UCCS faculty or staff member doesn't manage it in an official capacity, and the admins are completely anonymous. In reality, the page is no different than any other Colorado Springs-related fan page. Whether or not we approve of what is posted to the page, we don't have the ability to mange the content, let alone take down the page.
What has UCCS done to try to distance itself from this page?
Our main concern with the Confessions page is that UCCS community members think that the page is somehow official. Originally, the page was using an official UCCS logo. We contacted the page's admins through Facebook and asked that they remove any trademarked UCCS graphics and add a disclaimer to their "About" section that said it was unaffiliated with the university. They did take down the logo, but at this time have not added any disclaimer to the page.
Do you think the postings on UCCS Confessions are true?
That's a good question. I don't know. While some posts may be based on reality most seem to be tall tales hoping to one-up each other and gain more "likes."
Do you monitor UCCS confessions?
No, we do not regularly monitor the site. We have, however, been notified by faculty, staff and students a number of times about certain posts.
I like Facebook but I don't like what I see on the Confessions page. What should I do?
First, see if they will post something positive. One of the great things about social media is the ability to have a conversation. Submitting something to the page's administrators about little known UCCS facts or sharing a positive "confession" is a tactic worth trying.
Second, if you are genuinely concerned about a post and that someone might be in danger or that an illegal activity is taking place, please share it with the UCCS Police Department directly at 255-3111.
Lastly, if you're aware of an answer to a posting – let's say someone wondering where to get academic help – you should feel free to share that information.
How can I learn more about social media?
We offer social media training sessions for faculty and staff throughout the semester. If your interested in attending, or want to start your own UCCS-related social media account, please visit our website at www.uccs.edu/socialmedia, or email me at [email protected].