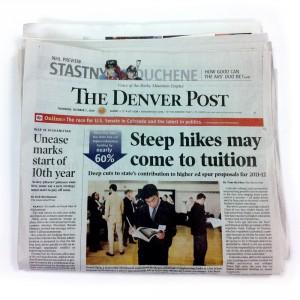 A request that Colorado colleges and universities submit tuition plans in advance of action by the Colorado General Assembly generated news coverage this week but should not cause concern among UCCS students or family members who might help pay bills.
Chancellor Pam Shockley-Zalabak encouraged faculty and staff who attended a Wednesday forum to be prepared to answer student questions and to assuage concerns about double-digit tuition increases that might be fueled by media coverage.
State colleges and universities, including all three CU campuses, submitted tuition plans to CCHE Oct. 1. The submissions were required by Senate Bill 10-003, a bill that provided campuses flexibility but required advance notice if a campus planned to increase tuition more than 9 percent. The plans drew widespread television and newspaper coverage in Denver and Colorado Springs and could leave potential and current UCCS students confused about costs to attend the university next fall
"These are preliminary plans only and serve as a placeholder while the state budget situation is fluid," Brian Burnett, vice chancellor, Administration and Finance, said.
Setting tuition rates for fall 2011 is a lengthy and complex process, Burnett said. Setting tuition without knowing the level of support CU will receive from the State of Colorado makes the task nearly impossible. Generally, the CU Board of Regents sets tuition levels following the conclusion of the general session of the Colorado General Assembly. Last year, tuition rates were set in April for the fall semester.
"The University of Colorado at Colorado Springs will continue to strive to keep the cost of attending UCCS within the reach of low- and moderate-income Coloradans," Burnett said. "We understand that these are challenging economic times and will do everything possible to keep costs down."
To see the Colorado Springs Gazette coverage of the tuition proposals, visit UCCS Media Watch.