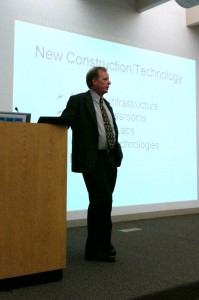 Big changes are coming for every telephone, computer and smart phone on campus, according to Jerry Wilson, executive director, Information Technology.
Wilson outlined changes that will bring Voice Over Internet Protocol telephones to every desk as well as server and software upgrades in a broad-ranging overview of changes in Information Technology during a Wednesday campus forum.
"We are rebuilding the whole network from the bottom up," Wilson said. "And, yes, that means we'll finally be able to get rid of Meeting Maker."
No longer using the antiquated calendar program will allow campus users to synchronize their smart phones with Microsoft Outlook or other calendar programs. Adopting Microsoft Exchange will improve productivity but that change is small compared to others..
Desk and classroom phones will be replaced with units that use the Internet to transmit crystal-clear voices. And since both telephones and computers will be using the Internet, the two devices will work together.
"Your computer will plug into your telephone," Wilson explained. "Your voice mail and your fax will now be integrated into your computer."
Wilson cited improved call quality and storage of information in addition to portability as advantages of the new system.
"If you change offices, no one has to call and have the wiring changed. You'll simply plug in and the system will know where you are on campus or even at another CU campus."
Behind-the-scenes work will soon begin with a goal of implementing the new telephone and network upgrades by Jan. 2011. Training sessions will be offered, Wilson said, to help users prepare.
Improvements to phones and computers are not the only changes forthcoming. A new webpage development software, Ingenuix, is planned for the new year to make creating and maintaining Web pages easier.
"This is one of our biggest problems as a campus," Wilson said. "People create a web page and then forget about them. Pretty soon you have two and three-year old information out there. We believe Ingenuix will make everything a lot easier."
The system is currently being tested by the College of Business with positive early results, Wilson said.
Wilson also highlighted changes enacted this fall to improve campus technology experiences. They include
A new software program used by the IT Help Desk that will improve customer service.
Improvements to the campus wireless network that allow for easier log-in and use by more devices, including iPhones.
Blackboard as the lone classroom management software program.
Wilson's PowerPoint presentation is available as a PDF on the IT website.
Photo by Tom Hutton