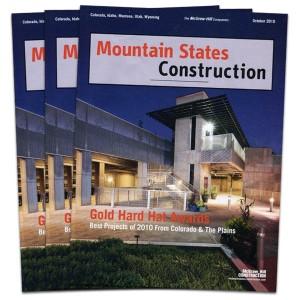 A UCCS building project and one near the university received Gold Hard Hat Awards from the publishers of Mountain States Construction.
The construction trade magazine that covers Colorado, Kansas, Nebraska, North Dakota and South Dakota honored 41 project winners in 19 categories. Winners were selected by a seven member panel of architects and other construction industry professionals. Award criteria included design quality and innovation, craftsmanship, contribution to the community and the construction industry, solutions to unique challenges and overall excellence.
The Science & Engineering building received a bronze award for Outstanding Architectural Design. AR7 Architects, Denver, designed the $56.1 million building which was completed in Aug. 2009
University Village Colorado, a shopping center on North Nevada near the campus, earned a gold award for Outstanding Retail Project. UCCS, along with the Colorado Springs Urban Renewal Authority, was cited as a partner with the private developers, Kratt Commercial and Olive Real Estate Group.
Brian Burnett, vice chancellor, Administration and Finance, accepted the awards at an Oct. 1 ceremony in Denver. The award winners will be featured in the magazine's Oct. 2010 edition.