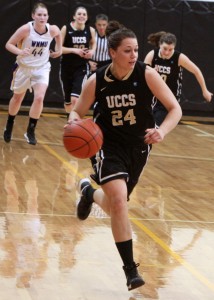 The UCCS women's basketball team is in position to host its first postseason game in more than 10 years and the Mountain Lions are one of four teams vying for the final three hosting spots in next week's 2013 RMAC Shootout.
UCCS is in a three-way tie with Metro State and Fort Lewis for second place in the Rocky Mountain Athletic Conference standings, and CSU-Pueblo is a game behind the three teams in fifth place. UCCS and CSU-Pueblo travel to play Regis and Metro State this weekend while Fort Lewis travels for games at Western State and Colorado Mesa.
The Mountain Lions have already guaranteed a spot in the RMAC Shootout for the second straight season. Depending the results of weekend games, it is possible that UCCS will host a 7 p.m. March 5 tournament game at the Gallogly Events Center.
The RMAC uses a combination of head-to-head results and an approved rating system to break ties for Shootout seeding. For additional details and scenarios, visit http://gomountainlions.com/basketball/news/spotlight/13wbb0227.html