Karin Larkin, curator, Department of Anthropology, was recently recognized for her role in preserving southern Colorado history.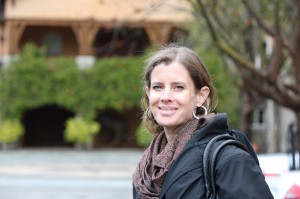 History Colorado presented the University of Denver's Department of Anthropology with its Stephen H. Hart Award for its work with the Ludlow Tent Colony Site during a Feb. 6 ceremony in Denver. From 2001 to 2005, Larkin worked as the project director for the Colorado Coalfield War Archaeology Project at DU.
The awards are named in honor of Steven H. Hart, Colorado's first state historic preservation officer, and cofounder of the Holland & Hart law firm.
From 4:30 p.m. to 6 p.m. Feb. 19 in Engineering 103, Larkin will share her work to preserve what is commonly referred to as the Ludlow massacre. In 1914, Ludlow, near Trinidad, was the site of a battle between striking coal miners and Colorado militia. 21 people were killed. The event sparked extensive labor and mine safety reforms across the United States.
Larkin's presentation, "Unearthing the Ludlow Massacre: Results of the Colorado Coalfield War Archaeological Project" will review the 1913-1914 Colorado coal strike that became one of the most violent in U.S. history. She will discuss the Ludlow massacre as well as findings from the nearby coal mining town of Berwind and explain how archaeology can enhance the historical record. The event is sponsored by Sigma Xi Scientific Research Society and is open to all campus community members.
Next year marks the 100 year anniversary of the strike and massacre. There is a state wide committee planning events along the Front Range to commemorate these important events.