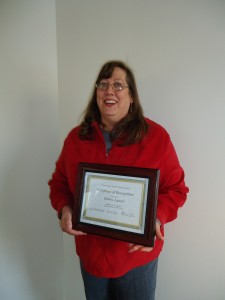 Whether calling pest control to get a raccoon out of the attic of a university-owned home or preparing items for the next CU Board of Regents meeting, Debbie Lapioli's attention to detail and gentle approach are traits worth recognizing.
So say Lapioli's co-workers who nominated the 18-year UCCS veteran as Employee of the Quarter for the first quarter of 2013.
As executive assistant to Brian Burnett, vice chancellor, Administration and Finance, Lapioli is used to dealing with details. There are policies to be reviewed, websites to be updated, leases to be executed and details to be sweated before documents are sent to the Board of Regents. But her enthusiasm for tasks that aren't directly related to the higher-ups also drew praise.
"Debbie's organizational skills have proven to be vital during department moves," Iryse Naro, executive assistant, and Lapioli's suite mate. "Debbie is right there, clipboard in hand to ensure everyone has a proper work area complete with matching desk, chair, and file cabinet. She takes the extra step to make sure everyone is satisfied."
Naro praised Lapioli's service on numerous staff council committees and volunteer work with various campus events such as commencement and convocation. But Lapioli doesn't quit at five. She is active in her church and often visits those who are ill. During those visits, she often supplies family members holding hospital vigils with food baskets.
"It is very humbling to receive this award and actually makes me embarrassed to have public recognition," Lapioli said. "There are so many people who go above and beyond to complete extra tasks and serve others and it is truly an honor to be included in the employee of the quarter group."
Leadership by Example
Naro praised Lapioli's work with student employees. She encourages them to balance work and school and to maintain focus on their goals. Lapioli speaks from experience. In 2010, already a grandmother, Lapioli earned a bachelor's degree in communication, completing a process that began in the early 1970s.
"I've earned a Ph.D. in life," Lapioli said at the time. "But what I wanted was a BA in communication."
Award brings Rewards
As a result of her Employee of the Quarter honors, Lapioli will receive one day administrative leave, a $100 stipend, three months free, reserved campus parking and a certificate of recognition.
To nominate someone for Employee of the Quarter Honors, contact Deanna Ely, program assistant, Facilities Services, [email protected] or 255-3313.