A new computer program installed at the Bookstore this fall will make ordering textbooks a one-click experience for faculty or administrative staff members assigned to the task.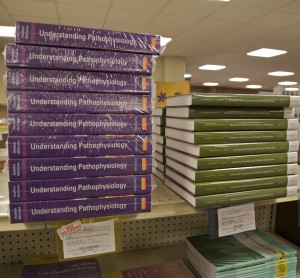 Earlier this month, the Bookstore launched the Verba Collect software in its efforts to make textbook ordering easier. After a successful trial, the software will be used in earnest beginning in early 2013 to secure textbook orders for the Fall 2013 semester, according to Jason Votruba, Manager, Bookstore.
"We are trying to make textbook ordering as easy as possible for faculty members which we believe will translate into lower prices for students," Votruba said.
In March, faculty members will get an email with a personalized link for their textbook adoptions. By clicking the link, they will find all of the classes they teach listed. They can choose to use the same textbook used in the past, search for a new text in the field, or not use a text book at all. With one click, a faculty member can make his or her selection. The system will be the preferred textbook adoption submission tool compared to earlier processes which required faculty or an assigned staff member to submit text orders through email, phone, or in-person.
Bookstore staff members and the software vendor are currently loading the texts faculty have adopted in previous years and fine tuning the software interface to make the user experience positive. But while excited about the software and the ease of email ordering, Votruba was quick to add that the Bookstore will still take phone calls or in-person visits from faculty seeking to order texts.
By completing textbook orders earlier in the semester, the Bookstore hopes to get more used books in stock and to reduce shipping costs from publishers. Small, last-minute book orders are expensive, Votruba explained, and students bear the burden when those increased costs are passed on.
This is the third Verba software module at the Bookstore and one Votruba thinks may the most important. This fall, the first module allowed students to easily compare Bookstore prices with those of online competitors. Paired with a revamped website, this allows students to order and pay for textbooks online for in-person pickup or order from online competitors.  A second module allows the Bookstore staff to dynamically price books comparative to online prices. Spring semester books will be available to students Dec. 22 through the Bookstore website and the Bookstore expects the text shelves to be open and ready to students with their spring textbook needs Jan. 7.
For more information about the software and changes at the Bookstore, contact Votruba, 255-4665, or [email protected].