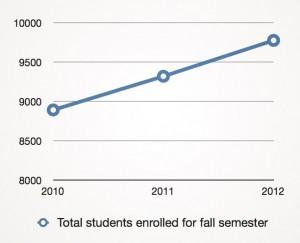 It's official. Student enrollment at UCCS for the Fall 2012 semester is the highest in the university's history with 9,777 students enrolled in 113,481 credit hours.
Homer Wesley, vice chancellor, Student Success and Enrollment Management, released the official tally of UCCS enrollment Sept. 11. The official UCCS census date was Sept. 6.
"A lot of people did a tremendous amount of work reflected in this report," Wesley said. "I am appreciative of everyone's efforts to recruit, retain, and — perhaps most importantly — to graduate students."
Campus headcount increased by 456 students or 5 percent from 9,321 students enrolled in Fall 2011 to 9,777 this year. Additionally, credit hours in which students enrolled increased by 5,898 or 5 ½ percent from 107,583 in Fall 2011 to 113,481 this year.
Undergraduate enrollment increased by 475 students or 6 percent from 7,696 students enrolled in Fall 2011 to 8,171 this year. Graduate enrollment was almost level, declining  by 18 students or 1 percent from 1,478 in Fall 2011 to 1,460 this year. There were 146 students non-degree seeking students on campus this fall as well.
Wesley's report highlighted several other enrollment trends
The freshman class increased by 95 students or 7 percent from 1,352 freshman in Fall 2011 to 1,447 students this year, the largest-ever UCCS freshman class.
Transfer students increased by 124 students or almost 13 percent from 966 transfers in Fall 2011 to 1,090 this year.
Continuing students increased by 274 or more than 4 percent from 6,425 in Fall 2011 to 6,699 this year.
Non-Colorado residents increased by 176 students or more than 20 percent from 856 students in Fall 2011 to 1,032 this year.
The number of students who self-identified as being a member of an ethnic minority group increased by 303 students or almost 15 percent from 2,077 students in Fall 2012 to 2,380 this fall. Minority students are now 24 percent of the UCCS student body.
For information on enrollment at other CU campuses, visit http://connections.cu.edu/news/student-enrollment-strong-steady-across-cu-campuses/