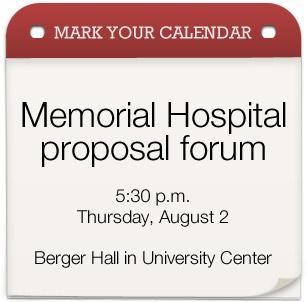 The members of the UCCS Alumni Executive Board and Chancellor Pam Shockley-Zalabak will host a forum to outline the proposed lease of Memorial Hospital to University of Colorado Hospital at 5:30 p.m. Aug. 2 in Berger Hall.
The event is open to both campus and greater Colorado Springs community members, according to Jennifer Hane, director, UCCS Alumni and Friends Association. The forum is expected to last 60 minutes and will be followed by a community reception.
Representatives from UCH, UCCS and the City of Colorado Springs will explain what the proposed lease of Memorial Hospital means for the City of Colorado Springs and UCCS. As part of the proposed agreement, a branch campus of the CU School of Medicine will be located at UCCS.
Free parking will be available in lots 3 and 4. To attend, please visit https://secure.www.alumniconnections.com/olc/pub/UCOC/event/showEventForm.jsp?form_id=130904 to confirm your attendance.
Earlier this year, a task force reviewing bids for Memorial endorsed the UCH proposal. The Colorado Springs City Council and Mayor Steve Bach have also endorsed the plan. Colorado Springs residents will be asked to vote on the proposal in an Aug. 28 mail-in ballot special election.
University of Colorado Health, a new organization composed of University of Colorado Hospital in Aurora and Poudre Valley Health System in Fort Collins, is offering the city $259 million up front, $5.6 million in annual lease payments, a profit-sharing plan and $3 million a year toward establishing a branch medical campus at UCCS.
The UCCS Alumni Executive Board members are:
Caron Alllen, School of Public Affairs, 2005
Tom Baranowski, College of Business, 1981
Laura Chandler, College of Letters, Arts and Sciences, 1995
Brad Cuppy, College of Engineering and Applied Science, 2002
Maria Lampman, College of Letters, Arts and Sciences, 2008
Kim Ostrander, School of Public Affairs, 2011
Eric Peitz, College of Business, 1977
Fred Slane, College of Business, 2008
Amy Sullivan, College of Letters, Arts and Sciences, 2005
Bryan VanSickle, College of Business, 1995
Stu Woods, College of Business, 1989