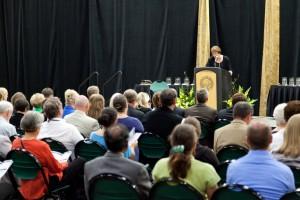 A "Star Wars" tribute, a human skull and Provost Peg Bacon at a loss for words were among surprises that greeted the audience at the 2012 UCCS Campus Awards Ceremony in Berger Hall.
Chancellor Pam Shockley-Zalabak promised surprises when she welcomed more than 150 guests to the festivities in Berger Hall. The audience laughed and applauded the unexpected delights at the May 2 event that recognized faculty, staff and students for outstanding contributions and service to the campus community.
In honor of Bacon's upcoming retirement, Shockley-Zalabak introduced the Visual and Performing Arts Vocal Ensemble, who gave an a cappella offering of "Star Wars" dialogue, characters and references to the tune of the familiar "Star Wars" theme. Peg Bacon joined UCCS faculty in 1978, the same year the "Star Wars" phenomenon took off. While not many people made the connection, the audience cheered the group's performance.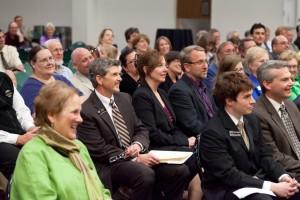 Michael Larson, associate vice chancellor, Research and Innovation, made the presentation for Faculty Award for Excellence in Research. Since award recipient Rebecca Laroche, professor, Department of English, made extensive investigation involving Shakespeare's "Hamlet," Larson made an "Alas poor Yorick" joke, complete with iconic skull.
Although Bacon is known and highly respected for being prepared and speaking with great skill, she was clearly flustered when Shockley-Zalabak gave her the Special Chancellor's Award.
"It's easier to give awards than to receive them," she said, when she later presented the Outstanding Instructor Award to Janet Myers, senior instructor, Department of History.
A reception with food, beverages and music followed the ceremony.
A list of the awards and honorees follows
Thomas F. McLaughlin Award: Michael English, junior
Thomas F. McLaughlin Award: Nikki Kinzer, junior
Student Employee of the Year Award: Amanda Koback, graduate fellow
Student Achievement Award: Mary Commerford, senior
Ron Wisner Human Spirit and Leadership Award: Terry Garrett, senior
Alumni and Friends Award: Nancy Lewis, 1980 graduate
Campus Sustainability Award: Nancy Gadachy, office manager, Student Health Center
Chancellor's Award: Paul Harvey, professor, Department of History
Special Chancellor's Award: Peg Bacon, provost and executive vice chancellor, Office of Academic Affairs
Outstanding Staff Award: Steve Linhart, director, Office of Emergency Management
Outstanding Instructor Award: Janet Myers, senior instructor, Department of History
Faculty Award for Outstanding Contribution to Diversity and Inclusiveness: Christina Jiménez, associate professor, Department of History
Faculty Award for Excellence in Research: Rebecca Laroche, professor, Department of English
Outstanding Teacher Award: Chris Hill, professor, Department of History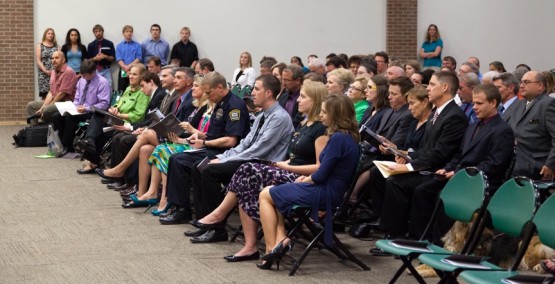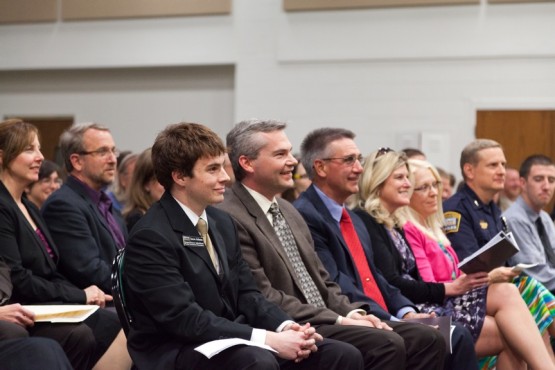 — Photos by Jeff Foster, University Advancement