Two Denver-based theologians and two local entrepreneurs will lead campus discussions Feb. 28 and 29 pondering if religious belief entails changing the world.
At 5 p.m. Feb. 28 in the Lodge, Edward Antonio of the Iliff School of Theology and Dieumene Noelliste of the Denver Seminary will lead a discussion titled "Religion and Social Justice: Duet or Duel?" The event, hosted by the Center for Religious Diversity and Public Life, is free. Refreshments will be served.
Antonio is the Harvey H. Potthoff Associate Professor of Christian Theology and Social Theory and associate dean of diversities at the Iliff School of Theology, Denver. He writes regularly about black theology and works with the Center for Interfaith Action on Global Poverty to examine the experiences of Muslim and Christian leaders in Nigeria who are working together to prevent malaria infection in the country.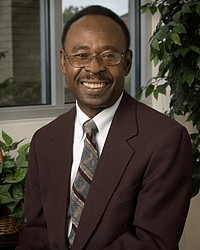 Noelliste is a professor of theological ethics at Denver Seminary and writes about the connection of Christianity to political engagement. He is the director of the Grounds Institute for Public Ethics and organizes events that explore the relationship between Christianity and the common good.
At 4 p.m. on Feb. 29, a second pair of speakers will continue the discussion in University Center 303. The event is free and refreshments will be served.
 Sarah Ray, a UCCS alumna, and founder of Yobel Market, and Darcie Nolan, co-founder of Eye See Media, will present the second portion of "Religion and Social Justice: Duet or Duel?"
 Yobel Market sells items made by impoverished people from around the world as a way of raising awareness of global injustice. Eye See Media is an online magazine making an effort to raise awareness of social justice and social change by spotlighting people that initiate change across the world.
For more information about the events, contact Jeff Scholes, director, Center for Religious Diversity and Public Life and instructor, Department of Philosophy, jscholes@uccs.edu or www.uccs.edu/rdpl.