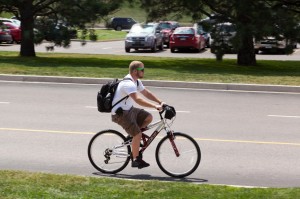 For those hankering for some cycling after watching the USA Pro Cycling Challenge roll through Colorado Springs, the Office of Sustainability is organizing the first annual UCCS Bike Month Challenge.
From Sept. 1 to Sept. 30, members of the campus community are asked to leave cars at home and commute by bicycle or foot for as many days as possible. Prizes that include a new bicycle and passes to Cheyenne Mountain Zoo will be awarded to those who bicycle the most days as well as those who have the most miles at the end of the month.
The Bike Month Challenge is an expansion of the annual Bike Jam event, which will take place on Sept. 14. Bike Jam 3: For the Health of It (Yours and the Planet's) is an event that includes a bike to campus breakfast from 7:30 a.m. to 9:30 a.m., a guided mountain bike ride on UCCS trails, a campus cruise on paved trails, and food and bike-related booths between 11:30 a.m. and 1:30 p.m.
The focus of this year's event and month-long challenge is to emphasize health and wellness represented by bicycle and walking activity, according to Linda Kogan, director, Office of Sustainability. Wellness activities and exams, as well as bike tune-ups, flat fixing clinics, and bike gadget booths will be available between 11:30 and 1:30. There is also an opportunity to donate your used bike to someone in need.
"There are a significant number of campus community members who consistently bicycle to UCCS. We hope this Bike Month Challenge will both reward these riders as well as encourage more of the campus community to give bike commuting a try," Kogan said.
To participate, please register at http://bikejam3.eventbrite.com. Participants can print a log from the site and must complete it to be eligible for prizes. The Sept. 14 breakfast is free for bicyclers but registration is required at http://bikejam3.eventbrite.com.
Bike Jam 3 is a collaborative effort between Public Safety, Office of Student Activities, PESA, Staff Council, Student Health Center, Recreation Center, and the Office of Sustainability.