Memorial services are scheduled for 11 a.m. May 6 at First United Methodist Church, 420 N. Nevada Ave., for Glenn Williams, a UCCS benefactor responsible for an endowment to women's athletics and a new sculpture at Mountain Lion Field.
Williams died early Thursday morning following a lengthy battle with cancer. He was 84 years old.
To see his obituary as published in the Colorado Springs Gazette, visit http://www.legacy.com/obituaries/gazette/obituary.aspx?n=glenn-david-williams&pid=150677598&fhid=6111
Last week, dedication ceremonies for the 12-foot-tall bronze statue were cancelled because Williams was too ill to attend. Those ceremonies will be rescheduled.
"Dr. Williams was a dear friend of the university and, in particular, to women's athletics," Chancellor Pam Shockley-Zalabak said. "We appreciate his generosity and celebrate his enthusiastic spirit. He will be missed but remembered each time we see the sculpture he made possible. He was a very special human being."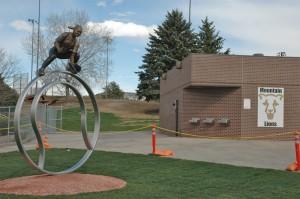 Williams commissioned Denny Haskew, Loveland, of the National Sculptors' Guild, to create "Dedicated to Excellence" to highlight the role of women's athletics in the collegiate experience. Williams was a retired Eastern Illinois University administrator who began attending UCCS softball games in 1993. He and his late wife, Joan, established the Glenn D.and Joan R. Williams Endowment for Women's Athletics. The fund supports women student-athletics in softball, cross country, track and field, soccer, basketball, and volleyball as well as the softball coach position.
To see previous Communique stories on the sculpture and Williams, please visit https://communique.uccs.edu/?p=3541 and https://communique.uccs.edu/?p=3143