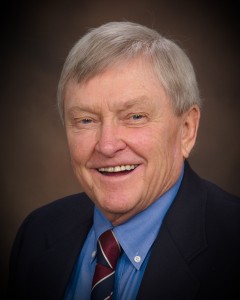 A former UCCS faculty member will receive the University of Colorado's highest honor during Spring Commencement ceremonies May 20.
Don Birkeland, a member of the Department of Psychology faculty from 1971 to 1980, will be presented with an Honorary Doctorate of Humane Letters by the CU Board of Regents during the commencement ceremony.
As a faculty member, Birkeland taught undergraduate courses in organizational psychology in addition to serving as department chair and assistant dean of the College of Letters, Arts and Sciences. After leaving the university, Birkeland joined Minneapolis-based Personnel Decisions Inc., later Personnel Decisions International, serving 11 years as its president and directing the growth of the company to a worldwide organization with hundreds of team members. PDI pioneered the use of personality-based measurements and inventories as well as leadership development. The company's clients include leaders in industries as diverse as oil and gas, retail and wholesale food, high technology, manufacturing and finance.
He remains close to many UCCS faculty and has helped the university make connections to educational efforts for Saudi Arabian students and in other areas.
"Don has come back to campus occasionally over the years," Bob Durham, associate professor, Department of Psychology, said. "Sometimes, it was for ceremonies to honor people like David Nichols, the founder of the Psychology Department or the festschrift honoring the late Lee Becker. And sometimes, he would just magically appear at my door just to say 'hi'. Don never forgot his roots in Colorado or at UCCS."
An estimated 850 students will participate in Spring Commencement ceremonies scheduled for 10 a.m. May 20 at the World Arena. Faculty and staff members are encouraged to attend the ceremonies and, if possible, to assist with them.
For more information about Commencement, visit www.uccs.edu/commencement or contact Tina Collins, 255-3258, tcollins@uccs.edu.