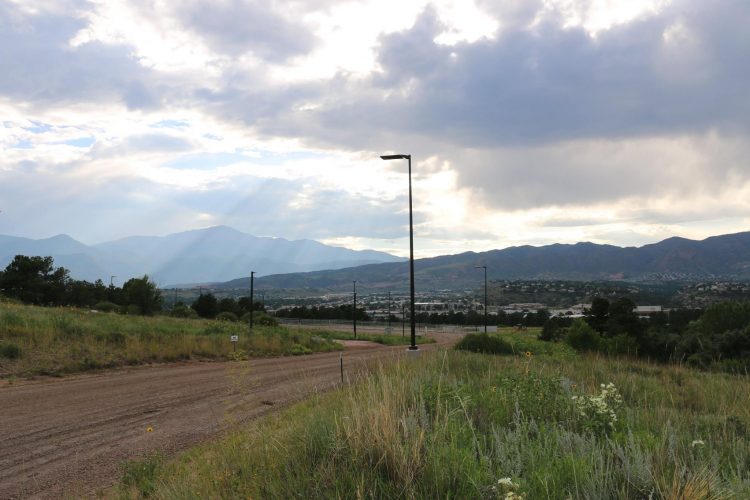 Wilson & Company, an engineering firm based in Colorado Springs, will conduct the professional engineering services for the Spine Road project at UCCS to connect the central and west campuses. The new road will allow faculty, staff and students to move between the two areas of campus more efficiently while avoiding use of Austin Bluffs Parkway and North Nevada Avenue.
Wilson will complete engineering services by the end of 2018, to allow advertisement for the construction for general contractors. Construction is scheduled to begin in the spring of 2019 with completion by the start of the fall 2019 semester.
The project calls for approximately 3,150 feet of new roadway that addresses vehicular, pedestrian and bicycle transportation needs. UCCS and the City of Colorado Springs are partnering to provide funding for the project.
"We have been fortunate for the financial contribution of the city that helped to accelerate the timeline for this project," said Kent Marsh, Associate Vice Chancellor for Campus Planning and Facilities Management. "This was a project that the university identified in its 2020 Strategic Plan that will make it safer and more efficient for our campus community to move across campus."
Wilson & Company was the lead consultant for the Colorado Department of Transportation for the Pecos Bridge replacement over Interstate 70 in Denver, the largest accelerated bridge construction project in CDOT history. Wilson & Company also partnered with CDOT for the implementation of the I-25 and Cimarron Street interchange in downtown Colorado Springs. Wilson & Company has been providing engineering/planning and construction services to the Pikes Peak region for more than 35 years.